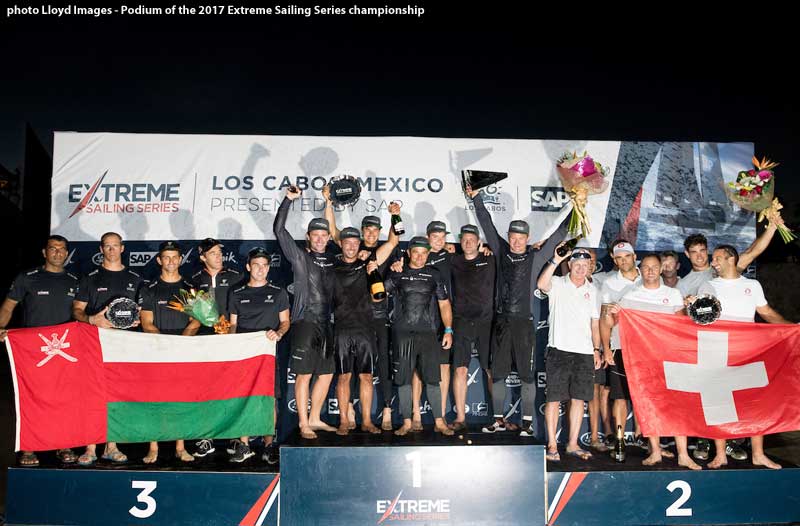 GC32
2017 Extreme Sailing Series : SAP Extreme Sailing Team was crowned champion of the 2017 season
lundi 4 décembre 2017 – Redaction SSS [Source RP]
Toutes les versions de cet article : [English] [français]
The wind tantalised the apprehensive teams, only filling in enough to run three scoring races in the final hour of the day. The Danes had victory in the bag by the time it came to the closing double-points race but the heat was still on between Alinghi and Oman Air in the war to win the first-ever Mexican Extreme Sailing Series Extreme Sailing Series #extremesailing Act.
For an ecstatic SAP Extreme Sailing Team co-skipper Rasmus Køstner this is a momentous occasion, as it is his first ever victory in the ultimate Stadium Racing championship since he began competing in 2012.
"It's a goal we've had for a long, long time, and it's actually the reason we started the project, so it is amazing," said an elated Køstner, who celebrated with his fellow crewmembers : Co-skipper and coach Jes Gram-Hansen, helm Adam Minoprio, headsail trimmer Pierluigi de Felice, trimmer and grinder Mads Emil Stephensen and bowman Richard Mason.

"It's been a great journey and a really fantastic achievement by the team and I'm very proud of them for the work they've put in. We're finally here and it's a good feeling, that's for sure," added Køstner,
whose team's victory was topped off by winning the Zhik Speed Machine Trophy for reaching the top speed of the Act and of the year at 33.7 knots, an insight provided by SAP.
Although the season trophy was out of reach for Alinghi and Oman Air, their fate in Act standings was only decided in the last nail-biting race of the day. Not deterred by Oman Air's two race wins in the run-up, the Swiss finished ahead of the Omani syndicate to seal the Act 8 triumph.
"Today was quite tricky and we didn't start the day well but we came back in the second race and everything was on the table for the last one," said Arnaud Psarofaghis, co-skipper and helm of Alinghi, who finished second for the season.

"It was a great battle with Oman Air, but we managed to beat them. I think Phil Robertson [skipper of Oman Air] lost at his own game of trying to match race us and we got ahead in the end. Really well done to SAP Extreme Sailing Team ; it's been a great season," he added.
Despite a commendable effort in the two opening races, Oman Air was unable to catch its adversary Alinghi and finished second for the Act and third for the season.
"It was a massive fight and we were very close to pulling off the event win. We were in the position a couple of times in that last race to do it, but unfortunately the Swiss sailed a little too well to make it easy for us. We had to get our hands dirty but it didn't go our way," said skipper Phil Robertson.

"It was a very good event, I'm pretty pleased with the way we sailed today but it would be nice to be on the top step," he added.
With SAP Extreme Sailing Team determined to keep its main threat at an arm's length, Red Bull Sailing Team had a tough battle on its hands and one which it lost.
"SAP Extreme Sailing Team were going at us from the start. We knew they were coming but Adam Minoprio is a very good match racer and I judged it wrong. We fought back but it still wasn't enough," said skipper Roman Hagara, whose team finished fourth for the Act and the season.
Land Rover BAR Academy was helmed this week by Olympic gold-medallist and 2017 America's Cup America's Cup #AmericasCup sailor Giles Scott, who managed to out sail his America's Cup America's Cup #AmericasCup rival, Kiwi Josh Junior, who was at the helm of NZ Extreme Sailing Team. A fifth-place finish in the Act for the Brits saw it leapfrog the New Zealand-entry on the overall leaderboard to take fifth.
The drama was heightened in the final double-points race when local wildcard Team Extreme México pulled off its first-ever race win. The crowds were overjoyed for the home team, which was skippered by Mexican sailor Erik Brockmann and helmed by Brit Chris Taylor.
"We couldn't have asked for more. We had a tough second race today so we had nothing to lose going in to the final race. We thought 'let's go for it, let's give the crowd a show'," said Brockmann.

"We had a great start. We were the only ones on port and it gave us a good advantage over the fleet. In this fleet, you can't be leading at the first mark and just keep hold of that lead. We had to really fight for it to go our way and it was just amazing for the crowd. We could hear all the fans and that made it very special."
US-flagged wildcard Lupe Tortilla Demetrio, who competed for the second time here in Los Cabos following its debut at Act 7, San Diego, finished bottom of the Act leaderboard.
Position / Team / Points
1st SAP Extreme Sailing Team (DEN) 98 points.
2nd Alinghi (SUI) 96 points.
3rd Oman Air (OMA) 95 points.
4th Red Bull Sailing Team (AUT) 84 points.
5th Land Rover BAR Academy (GBR) 70 points.
6th NZ Extreme Sailing Team (NZL) 70 points.
---
Voir en ligne : Press info www.extremesailingseries.com
---
Dans la même rubrique