Vendée Globe
Armel Le Cléac'h wins the Vendée Globe 2016-17 in record time
Thursday 19 January 2017 – Information Vendée Globe
All the versions of this article: [English] [français]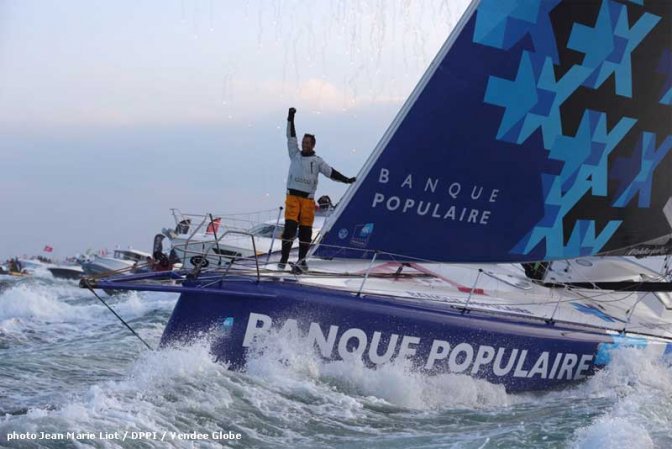 French sailor Armel Le Cléac'h has today won the Vendée Globe, setting a new
record
Record
#sailingrecord
for the solo non-stop round the world race in the process. Le Cléac'h, 39, from Brittany, crossed the finish line of the race in Les Sables d'Olonne, France, at 1537hrs UTC after 74 days, 3 hours, 35 minutes and 46 seconds at sea on his 60ft racing yacht Banque Populaire VIII.
His time sets a new record Record #sailingrecord for the race, beating the previous record Record #sailingrecord of 78 days 2 hours 16 minutes set by French sailor Francois Gabart in the 2012-13 edition by 3 days, 22 hours and 41 minutes.
Le Cléac'h, the runner-up in the 2008-09 and 2012-13 editions of the Vendée Globe, covered 24,499.52 nm at an average speed Speed #speedsailing of 13.77 knots during the race, which began from Les Sables d'Olonne on November 6 last year.
The Vendée Globe, which was founded in 1989, follows the 'clipper route' around Africa's Cape of Good Hope, Australia's Cape Leeuwin and South America's Cape Horn.
Second-placed Alex Thomson is expected to cross the finish line on his boat Hugo Boss around 12 hours behind Le Cléac'h.
---
Also in this section