#15MJI
15 Meter Class Association Annual Trophy : Tuiga s'impose aux Baléares
Sunday 16 August 2015 – Redaction SSS [Source RP]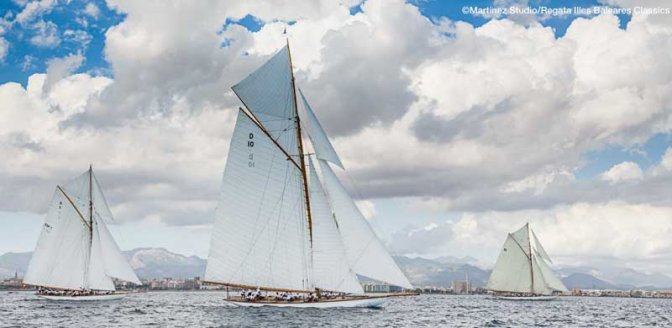 C'est en Espagne, à Palma de Majorque, lors de la XXIe édition de la Regata Illes Balears Clàssics (14-16 août), organisée par le Club de Mar, avec une participation record de 56 unités, représentant 13 nations, qu'a été donné le coup d'envoi du '15 Meter Class Association Annual Trophy'.
Lancé en 2012, ce championnat méditerranéen des 15 M JI, est composé de quatre étapes (Espagne, Monaco, Italie et France) et organisé avec le soutien de Rolex. Mariska (1908), Tuiga (1909), Hispania (1909), et The Lady Anne (1912) sont les quatre derniers 15 M JI encore navigants au monde, survivants d'une série qui compta vingt unités au début du XXe siècle, et qui domina le yachting de 1906 à 1917 sur tous les plans d'eau de régate d'Europe.
Très régulier, avec une victoire de manche et une place de deuxième lors de la première et unique journée de régate du jeudi (l'absence de vent et une pluie battante n'ayant pas permis de régater lors de la seconde journée), Tuiga (1909), le vaisseau amiral du Yacht Club de Monaco, barré par Bernard d'Alessandri, Secrétaire Général du Y.C.M. s'impose devant les Anglais de The Lady Anne (1912). Mariska (1908), détenteur du Trophée annuel en 2013 et en 2014, termine sur la troisième marche du podium devant Hispania (1909).
Cap sur la Monaco Classic Week
Pour leur prochaine et deuxième étape du '15 Meter Class Association Annual Trophy', le quatuor des cotres auriques dessinés par William Fife, fera escale en Principauté de Monaco, pour participer aux régates de la Monaco Classic Week (9-13 septembre 2015).
A leurs côtés, une cinquantaine d'unités de tradition et de classiques, une vingtaine de canots automobiles anciens, une dizaine de motor-yachts d'époque ainsi qu'une flotte de dinghies 12, dériveurs classiques menés en solitaire ou en double, série olympique pour la première fois en 1920, animeront gaiement le plan d'eau.
Une semaine, au sein du nouveau bâtiment du Yacht Club de Monaco, dessiné par Lord Norman Foster et inauguré en 2014, durant laquelle se succéderont des régates, des concours d'élégance, de chefs, une épreuve de navigation à l'estime, des inspections du Jury technique, présidé par Sir Robin Knox-Johnston, afin de décerner le Prix « La Belle Classe Restauration ». Cinq jours dédiés à « L'Art de Vivre la Mer », pour partager la passion du Yachting entre tradition et modernité.
---
View online : Info presse I.Andrieux / www.Yacht-Club-Monaco.mc
---
Calendrier prévisionnel 2015 du 15 Meter Class Association Annual Trophy
Regata Isla Baleares, (14 - 16 août 2015)
Résultats :
1er Tuiga (1909), Yacht Club de Monaco, 3 points
2e The Lady Anne (1912), RORC, 5 points
3e Mariska (1908), Société Nautique de Saint-Tropez, 6 points,
4e Hispania (1909), Club de Mar Puerto Sherry, 7 points
Monaco Classic Week (9 - 13 septembre 2015)

Portofino Rolex Trophy (18 - 20 septembre 2015)

Voiles de Saint-Tropez (26 septembre - 4 octobre 2015)
---
Also in this section