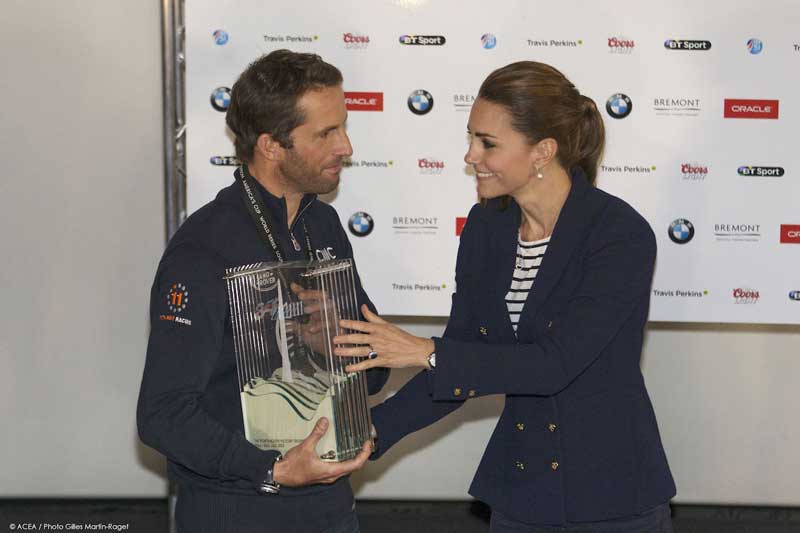 #ACWS
Americas Cup World Series : Royal congratulations for winner Ben Ainslie
dimanche 26 juillet 2015 – Information America's Cup
Toutes les versions de cet article : [English] [français]
Extreme winds forced the cancellation of racing at the Louis Vuitton
America's Cup
America's Cup
#AmericasCup
World Series in Portsmouth on Sunday, but didn't dampen enthusiasm for a Royal visit from the Duke and Duchess of Cambridge.


With no racing to close out the weekend, the results from Saturday stand, meaning Land Rover BAR is the winner of the first event of the 35th America's Cup America's Cup #AmericasCup cycle.
Ainslie and his team were congratulated on their win at the official prize giving by the Duke and Duchess of Cambridge, who were on site all day on Sunday and met with all of the teams, presenting the awards for the regatta. Michael Burke, the CEO of Louis Vuitton, was on hand to present each of the skippers with a gift.
"We're absolutely delighted to win the first Louis Vuitton America's Cup America's Cup #AmericasCup World Series event here in Portsmouth. This is a great start for us in our America's Cup journey," said Ben Ainslie, skipper of Land Rover BAR.

"With the conditions that we saw yesterday and the standard these teams are sailing at, it's absolutely amazing racing and looks wonderful on TV. In my sailing career, I've never seen anything like it - the amount of people who came out on the water, on the shoreline, supporting the event, supporting us as the home team…

"It's a real shame we couldn't race today considering all the effort that's gone into the event and the support we've had from the local fans here in Portsmouth. But that is the weather and we can't control it."
Emirates Team New Zealand claimed second place with rookie Peter Burling on the helm at his first America's Cup regatta.
"For a 24 year old, what a great opportunity for him to come through as a young guy. His skill level is really, really, high. This fast-paced, quick action, quick decision making really suits him," said his skipper, Glenn Ashby.
ORACLE TEAM USA rounded out the podium in third place.
"The racing was great. We had some good sailing out there. Lots of lead changes, six competitive teams, the level is really, really high," said skipper Jimmy Spithill. "We're disappointed we couldn't get out there again today."
Fourth place belongs to Groupama Team France whose skipper, Franck Cammas, was philosophical about not being able to race.
"The sailing world depends on wind. Too much, not enough, there is no race. It's normal for us as sailors. Today was clearly too windy to race without a big risk. It was the right decision," Cammas said.
"But I'm happy about what happened here. There were so many people watching and it was well organized for the first event on the circuit. I'm very confident for the future as we look ahead.
"It was great to be able to race against the others," Cammas continued. "At home, we train alone and when you sail alone you are always the world champion ! So we found the level here is very high. Not a surprise, but good to see, and very motivating for us to improve."
Dean Barker's new SoftBank Team Japan squad finished on equal points with the French, but fell to fifth place in the tie-breaker.
"We wanted to get into it again today, but it would have been impossible to race in these conditions," Barker said. 

"The foiling AC45 AC45 #AC45 race boats are great. But for us, we know we have a lot of work to do. This is just the first step in a long two-year program. Gothenburg next month will be a great opportunity to get back out there and get into the racing. That will have different challenges in terms of the race course, so more to adapt to there as well. We're excited we get to race again in a month's time."
The Louis Vuitton America's Cup World Series in Gothenburg from August 28-30 is the home event for Artemis Racing. The Swedish challenger will be looking to improve on a last place finish here in Portsmouth.
"We're excited to get there and see the support for Artemis Racing. We've had great enthusiasm for the team at home in Sweden over the last couple of years and we're really looking forward to racing there," said skipper Nathan Outteridge.
---
Louis Vuitton America's Cup World Series Portsmouth Results :
1. Land Rover BAR - 19 points
2. Emirates Team New Zealand - 18 points
3. ORACLE TEAM USA - 16 points
4. Groupama Team France - 13 points
5. SoftBank Team Japan - 13 points
6. Artemis Racing - 11 points
---
Dans la même rubrique