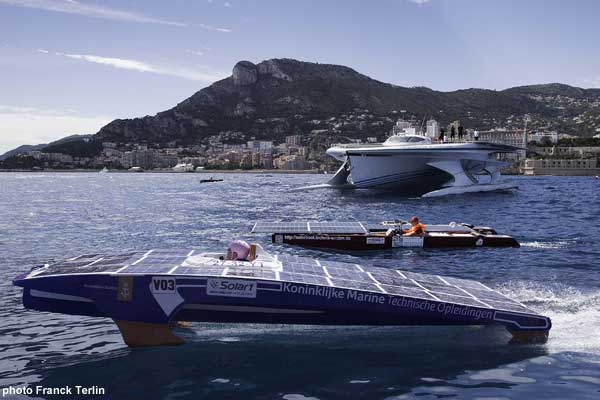 Solar1 Monte-Carlo Cup
Dutch pulled off a double win in the Open Class (8m or less) and in the A class (6m)
The Russian Team Beluga Powered by Synergy won the one-design V20 class (foils)
dimanche 13 juillet 2014 – Redaction SSS [Source RP]
Toutes les versions de cet article : [English] [français]
The departure from Quai Louis II of the giant 30m PlanetSolar catamaran with 512m2 of photovoltaic panels signalled the end of the Solar1 Monte-Carlo Cup, the first race for boats powered by the sun on the open sea in the Mediterranean.
"The solar energy industry is expanding fast and those involved in the luxury yacht industry are very interested in its development,"
comments Sergei Dobroserdov, CEO of Solar 1, the instigator for this project alongside the Yacht Club de Monaco. The Monaco Club, which benefits from the expertise of Marco Casiraghi, wanted this meeting dedicated to the new generation to be the first international event organised in its new premises which were inaugurated on the 20th of June 2014.
Three days of festivities attracted 25 teams from international universities, mainly northern Europe and the United States. The futuristic vessels designed and built by these young engineers competed in a fleet race, slalom races and one-on-one challenges in front of the Principality, watched with great interest by passers-by and YCM members.
Congratulations to the Dutch who pulled off a double, winning the Open Class (the most innovative, as there is only one restriction - the length - 8m or less) and in the A class (maximum length 6m and four solar panels). The Russian Team Beluga Powered by Synergy won the one-design V20 class (designed to plane on foils), while the Monegasques, who were the only team from the Mediterranean basin, took third in their Nakhimov Racing boat driven by Gianmarco Casiraghi.
"We had a fantastic collection of boats here in Monaco ! Some of them even had foils. It's the first time I've seen this technology on solar boats," o
bserved Gérard d'Aboville, Captain of PlanetSolar, jury boat and guest of honour which was open to the public to come aboard.
"As the largest solar-powered boat in the world, PlanetSolar has its place alongside these smaller craft which will one day be big. It's fantastic to see this bright new generation bringing their knowledge to the development of this energy of the future."
As well as providing a futuristic spectacle on the water, the meeting was a laboratory for solar energy.
"I am full of admiration for the ingenuity and creativity of the teams, some of whom are only 18. It's a bold challenge but above all a message of hope for the future. The technology on trial today - and not without its risks - will one day, I hope, become the norm in the leisure boat sector."
At the closing dinner, HSH the Sovereign Prince Albert II, President of the YCM, whose commitment to preserving the planet is well known through his eponymous foundation, warmly congratulated all the teams :
"Thanks to your ingenuity, your technical skills and scientific knowledge, you have shown that solar-powered propulsion is a very promising solution for the future – which I hope will be developed and applied in the leisure boat industry on larger vessels. It gives me great pride to see our Principality reviving a golden age, remembering that in 1904 the first power-boat races held here made a significant contribution to the development of the combustion engine. Monaco remains at the forefront of new technologies in the motor-boat sector."
---
Voir en ligne : Info presse YCM / www.solar1races.com
---
Dans la même rubrique