ASP World Tour
Victory for Michel Bourez at Drug Aware Margaret River Pro
"'m happy we have a WCT event here and it was great to surf at The Box"
dimanche 13 avril 2014 – Information World Surf League
Toutes les versions de cet article : [English] [français]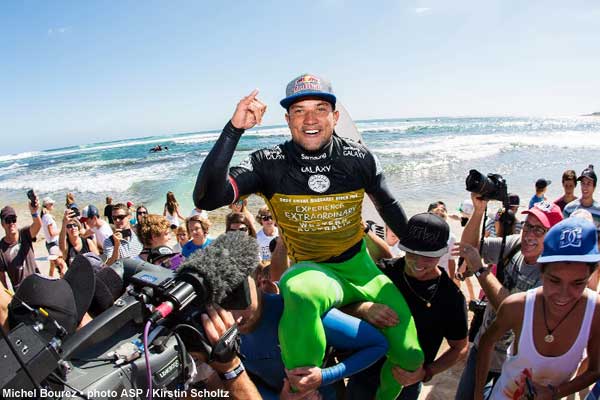 A thrilling Finals day in Western Australia saw Michel Bourez (PYF) crowned winner of the Drug Aware Margaret River Pro, the second stop on the 2014 Samsung Galaxy ASP World Championship Tour (WCT). The Tahitian powerhouse secured his first ever WCT win by defeating Josh Kerr (AUS) in an exciting Final on super Sunday. Bourez previously dispatched 11-time ASP World Champion Kelly Slater (USA) in the Semifinals and Nat Young (USA) in the Quarterfinals. The victory places Bourez at No. 4 in the ASP World Rankings.
Both Bourez and Kerr took to the water in the Final searching for their first career ASP WCT wins. The bout got off to a slow start, but Bourez eventually lit up two consecutive waves scoring 6.33 and 7.57 with his patented forehand power. Kerr answered back, delivering a full fledged attack on the Main Break rights, but Bourez continued to build momentum, adding an 8.33 to his score line to secure victory at the Drug Aware Margaret River Pro. Kerr finishes as runner up for the second year in a row.
"It's such a good feeling to win, it's a dream come true. Making the Final here and surfing against such an amazing person (Josh Kerr) was wonderful," said Michel Bourez. "It was such a tough Heat out there because you don't know what to expect from Kerr. The Semifinal was like a Final. Surfing against Kelly Slater was a tough one so I had to really push my level up. That 9.37 I got came out of nowhere. Kelly's still the greatest surfer ever so to beat him was wonderful. It's a long year and there are still nine contests to go so I need to focus on the next one and relax. I can't wait for Bells (Beach) now, I have always liked that wave."
"I just tried to relax going into the Final," said Josh Kerr. "It was a rough Heat but I wanted to put a show on for everyone. It hurt last year getting runner up and it hurts even more this year. I made a few errors at the start of the Heat by falling on the inside and I definitely didn't chose the right waves. The Heat came down to strategy and things didn't got my way. It's pretty annoying to make the Final and surf really badly. I'm stoked with the result though, the West has been good to me and I enjoy being here. I'm happy we have a WCT event here and it was great to surf at The Box. I'm going to take the year event by event and I'm excited to move on to the next one."
11-time ASP World Champion Kelly Slater (USA) was defeated by event winner Bourez in the Semifinals. Slater dominated from the outset, blending a variety of impressive turns on a number of waves while Bourez struggled to find a rhythm. In the dying minutes however, the momentum changed and the Tahitian lit up a righthander with Herculean power for a 9.37, the day's highest single-wave score and the win. Slater leaves the event in equal third and sets his sights on the Rip Curl Pro Bells Beach. Slater previously defeated Joel Parkinson in the Quarterfinals in what proved to be a battle of the juggernauts.
"I made a big tactical error. I was so far in the lead at the start of the Heat and when a wave came and I had priority I took it against my instincts," said Kelly Slater. "It meant that when the better wave came Michel (Bourez) got it. I didn't underestimate Michel before the Heat because I know this is a wave that really suits his style."

"I am hoping to leave Australia after these first three events with three solid results," said Joel Parkinson. "I really like Bells (Beach), it's one of my favorite events so hopefully I can do better than the Quarterfinals there. When the events are close together like this you just have to keep the momentum and intensity up."
---
Drug Aware Margaret River Pro Final Results :
Final : Michel Bourez (PYF) 15.90 def. Josh Kerr (AUS) 12.44
Drug Aware Margaret River Pro Semifinal Results :
Semifinal 1 : Josh Kerr (AUS) 15.10 def. Bede Durbidge (AUS) 14.87
Semifinal 2 : Michel Bourez (PYF) 16.14 def. Kelly Slater (USA) 14.90
The next stop on the 2014 Samsung Galaxy ASP World Championship Tour will be the Rip Curl Pro Bells Beach from April 16 - 27, 2014
---
Dans la même rubrique