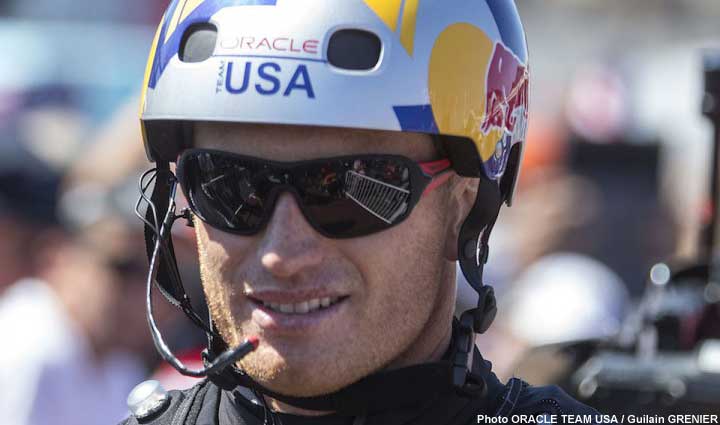 Oracle Team USA
Jimmy Spithill stays in the Defender team
"I just can't wait to get back out on the water and get racing"
mardi 4 février 2014 – Redaction SSS [Source RP]
Toutes les versions de cet article : [English] [français]
Jimmy Spithill will return to ORACLE TEAM USA as the team re-builds with a focus on winning its third consecutive
America's Cup
America's Cup
#AmericasCup
. The youngest skipper to ever lead a team to victory in the competition for the oldest trophy in international sport, Spithill says the lure of working with team principal Larry Ellison and CEO Russell Coutts again was too strong to ignore.
"There were some very good offers out there, but at the end of the day, Russell and Larry, I wouldn't be here without them…" Spithill said.
Spithill has made the America's Cup America's Cup #AmericasCup his life's work, beginning as a 20-year old skipper of the Young Australia team in the 1999/2000 Louis Vuitton Cup. He's raced in every event since then, making steady progress towards the victory in 2010, when he became the youngest skipper to win the trophy.
He followed that up with the successful defense last September and now he's looking to make it three wins in a row as skipper of ORACLE TEAM USA.
"Being a part of the team when we first won in 2010 and then to be able to get back to back wins and now to have an opportunity at a third, it's been an amazing ride. I feel fortunate to have been a part of it since day one and I'm looking forward to going at it again."
ORACLE TEAM USA completed an amazing comeback to win the America's Cup America's Cup #AmericasCup last year. Down 1-8 to a strong Emirates Team New Zealand, Spithill led his team to 8 consecutive wins to retain the Cup. He says the competitive challenge of the Cup and the winning atmosphere on the team, were also factors that pulled him back.
"This team is very competitive. The top guys are always surrounding themselves with very good people. There is no micromanaging on this team by Larry or Russell. They almost give you the burden of trust and that allows people to grow and learn and ultimately become better at what they do."
Spithill sees the America's Cup as the ultimate team challenge, a measuring stick for the individual in a team environment.
"It's so difficult to pull it off. But when you go through it all and you do it as a team and you do pull it off, it's just so rewarding," he says. "As a person, you learn a lot about yourself through these campaigns. I enjoy that it's a team environment, where you're working towards a goal but learning about yourself and trying to get better each day. This is one of the ultimate tests, athletically, mentally and in team management, that you can find. It's very addictive !"
As he looks ahead to the 35th America's Cup, Spithill says he thinks ORACLE TEAM USA will once again be pushed to the limit as the American team attempts to win the Cup for the third consecutive time. And he can't wait to take up the challenge.
"It's going to be one hell of a battle, one hell of a fight," he says. "I just can't wait to get back out on the water and get racing. The prospect of going head to head with a few of these teams and the personalities involved… It's hard to wait to be honest. I'm looking forward to training and to racing in the AC World Series again."
---
Voir en ligne : Press info ORACLE TEAM USA / www.oracleteamusa.com
---
Dans la même rubrique