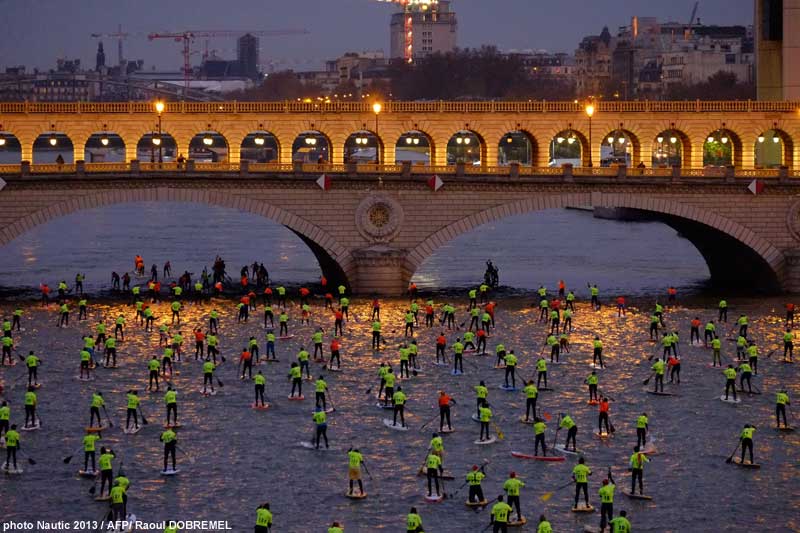 Nautic SUP Paris Crossing
Léonard Nika from Italy and Mary Buchaman from Britain won the SUP race in Paris
Sunday 8 December 2013 – Redaction SSS [Source RP]
All the versions of this article: [English] [français]
Early this morning, the Seine became THE spot to be, with an impressive range of boardsport champions heading onto the water amidst some 300 competitors in a bid to win the fourth Nautic SUP Paris Crossing, which traverses the French capital via Stand Up
Paddle
Paddle
#standuppaddle #paddleboard
. Antoine Albeau, Faustine Merret and the cream of professional racers pulled out all the stops to secure a win in the first round of this sprint across the city. Within the
boat show
Boat Show
#BoatShow
itself, a series of duels on one-design boards Naish coloured the second round of the competition at the Spot and all about there appeared to be a real holiday air to the place, thanks notably to the 10-year anniversary of the Tara Expédition and the tales of Jimmy Cornell.
As planned, at 0700 GMT this morning, the 300 surfers competing in the Nautic Sup Paris Crossing set off to devour the Seine in what proved to be a unique spectacle and an extraordinary competition. Out of the twelve kilometres making up the route (a little more for the Pros, who also had to go around Ile Saint-Louis), there was little between the top players, testifying to the intensity of a battle where every paddle Paddle #standuppaddle #paddleboard stroke counts. Supervised by the Services de Navigation de la Seine, the River Police and the volunteers from the SNSM (RNLI equivalent), the competitors were embroiled in an unforgettable fight, with an outstanding time of 50 minutes and 22 seconds for Martin Vitry, 14 years of age, who was No.1 in the Leisure and Junior categories. Italian Leonard Nika secured first place in the Pros category, whilst Mary Buchaman took victory in the women's competition. Once they got to the finish and warmed up at the campus set up through the loyal support of Microsoft and Windows Mobile, the competitors quickly made for the Porte de Versailles. As much as stamina was an essential quality in the battle for supremacy beneath the Eiffel Tower this morning, brute strength and dexterity made a difference beneath the spotlights of the Nautic this afternoon. The event involved great hilarity and some memorable wipe-outs in front of a supportive crowd and the eye of the new tight cameras Camiléo X-Sports de Toshiba..
The podium places for the different categories:
In the Loisirs (Leisure category), Martin Vitry secured the title ahead of Claudio Nika and Adrien Heurtaux.

In the Women's Pros category, Briton Mary Buchaman won the event ahead of Slovenian Manca Notar and Frenchwoman Faustine Merret.

Among the Women's Loisir (Leisure) category, Frenchwoman Valérie Vitry took first place so she'll be heading off to the World Naish One Championship 2014 with her son Martin. Second place goes to Frenchwoman Virginie Samson closely followed by Gisèle Hure.

Finally, the Pro men's podium was made up of Italian Leonard Nika, Frenchman Gaetan Sene and New Caledonian Titouan Puyo.
---
View online : Info presse www.salonnautiqueparis.com
---
Also in this section