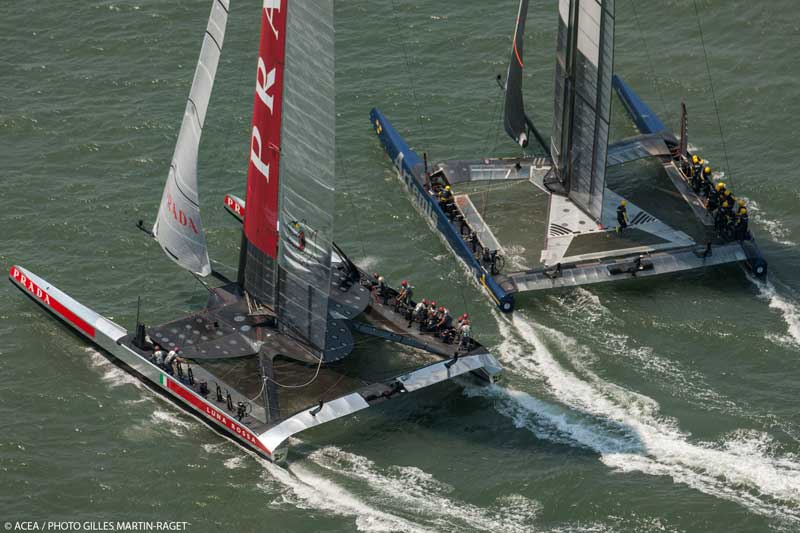 Louis Vuitton Cup
Luna Rossa Challenge stands one win away from the Final
Chris Draper : ""I think Artemis Racing has improved a lot"
Saturday 10 August 2013 – Information America's Cup
All the versions of this article: [English] [français]
Luna Rossa Challenge skipper Max Sirena has been saying for the past six weeks that his team always planned to use the Louis Vuitton Cup round robin to develop its crew work and increase its performance potential. Luna Rossa entered the competition late, nearly a year after the two other challengers, and has been playing catch up since.
Today the Italian team sailed its most complete race and now leads Artemis Racing 3-0 in the semifinal round of the America's Cup America's Cup #AmericasCup Challenger Series. Luna Rossa needs just one more win to advance to the Louis Vuitton Cup Final and a match with Emirates Team New Zealand.
Luna Rossa helmsman Chris Draper took the action to his Artemis Racing counterpart Nathan Outteridge in the pre-start. Draper used his starboard-tack advantage to take up a position close to leeward of Outteridge and force him to tack away in a downspeed maneuver to get separation.
Draper clearly won the start, crossing onto the racecourse 9 seconds ahead of Artemis Racing. Luna Rossa led by 11 seconds at the first reach mark and then steadily increased its lead around the 15.53-nautical-mile course to win by 1 minute, 18 seconds.
"Today was a great start. Chris really showed what he's able to do," said Sirena. "After the start we sailed probably our best race on the water as a team, which is good because tomorrow's going to be tough. Aretmis Racing is getting quicker and quicker every day and it's not finished yet. We need to keep focused and race well tomorrow."
As impressive as Luna Rossa was, Artemis Racing also raised its game. In the span of one day the team found a way to reduce its deficit to the Italians by 1 minute. But the Swedish team is simply running out of time to figure out the intricacies of racing the AC72 AC72 #AC72 .
"We upped our game hugely today, but the bad news for Artemis Racing was so did Luna Rossa. They sailed excellently from start to finish," said Artemis Racing skipper Iain Percy. "Now it's sudden death tomorrow and we like that, we look forward to that pressure."
Artemis Racing sailed today with a new daggerboard in the port hull. Percy said that the board coupled with new winglets on the rudders helped the team get foiling.
"The winglets seem to give to give it a little more lift when the rudders are being worked hard in the jibes, and seem to have made it a little easier pulling off the foiling jibes," said Percy.
Luna Rossa pulled off some fantastic jibes today as well, looking steady through the maneuvers without their hulls touching the water. Above the water, the Italian team is still using Wing 1. It was hoping to step Wing 2 tonight for tomorrow's potential series-clinching race.
"I'm really proud of how we sailed today. That's how we want to do it," said Luna Rossa's Draper. "I think Artemis Racing has improved a lot. We know Artemis Racing is going to keep getting better, there's too much talent in that camp, but we sailed a good race and I'm proud of that."
---
Race 4 of the semifinal round is scheduled for tomorrow at 1:15 pm PT.
Louis Vuitton Cup Semifinal Standings (best-of-seven series)
Luna Rossa Challenge – 3
Artemis Racing – 0
---
Also in this section