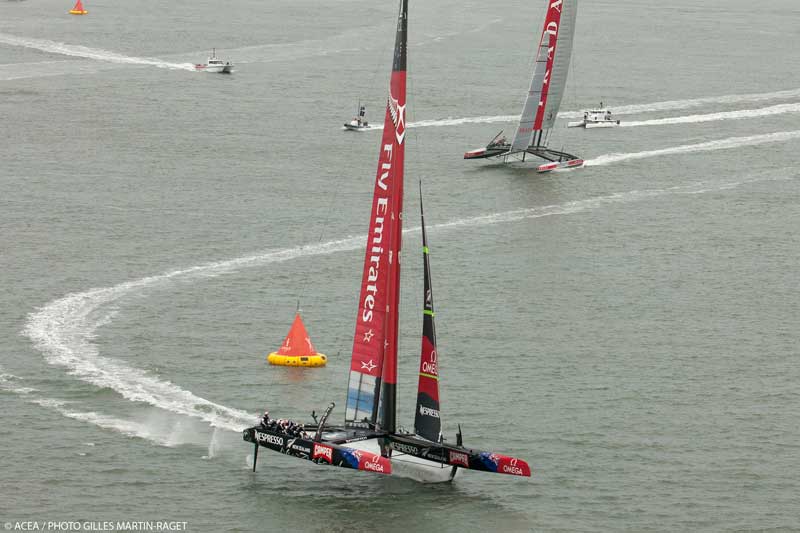 Louis Vuitton Cup
Emirates Team New Zealand clinches Louis Vuitton Cup round robin
Wednesday 24 July 2013 – Information America's Cup
All the versions of this article: [English] [français]
The New Zealand team, led by skipper Dean Barker, completed today's 15.43-nautical-mile course in 46 minutes, 53 seconds and finished more than 7 minutes ahead of Luna Rossa. The Italian team was scored DNF for failing to finish within 5 minutes.
The Kiwis have amassed 7 points and have three races remaining in the challengers' series, but can't be overcome. In winning the round robin they've earned the right to advance straight to the Louis Vuitton Cup Final or choose their opponent for the semifinal round.
As yet, the team hasn't announced its intention other than to say that it plans to sail its next scheduled races on Saturday and Sunday.
"In general, today there were no glaring mistakes, but we know we can keep doing better," said Barker. "We go out there to race as hard as we can every time. It's not a case of getting in front and cruising Cruising #Cruising . The level we're trying to achieve is still well above where we are now. There are a lot of improvements we can do to the boat with systems and management."
Luna Rossa had been closing the deficit with Emirates Team New Zealand. The Italians lost by nearly five and a half minutes in their first head-to-head meeting on July 13, but chopped three minutes off that deficit in Sunday's race.
Today, however, the Italians were badly off the pace, and grinder Giles Scott said that the crew was disappointed with the effort.
"We've got an awful lot to work on," said Scott. "Although the delta still seems substantial, we're moving forward and things are getting better. But clearly we've got a lot to do to get to where we need to be. We can't hide from the fact that, at the moment, the Kiwis are the class act."
Luna Rossa suffered a pre-race mishap when the team's AC72 AC72 #AC72 was launched in low tide. The port side rudder hit the bottom and had to be removed and repaired before the team left the dock.
"We dropped the rudder out, brought it to shore and the boatbuilders tickled it up. Then the divers stuck it back in before we left the dock," said Scott. "It's never ideal, but what it harmed was our preparation time. The boat was 100 percent at start time."
Today's race was over in the pre-start. Barker was able to position Aotearoa in front of Luna Rossa, which put the Italians in a tough spot. Both teams were late to the start, but the Kiwis had the advantage of position and entered the racecourse 15 seconds ahead of the Italians.
"We had a nice entry and they were a little late, so we ended up close on their stern after the jibe," Barker said. "When you end up in that position, a strong position, it's a case of making sure we end up late. We don't care how late we are, just as long as we're pushing them back. We probably could've gone harder at the line a bit earlier, but we wanted to make sure we put them in a tough spot."
Emirates Team New Zealand's next race is on Saturday, when they're scheduled to race Artemis Racing. Luna Rossa Challenge is scheduled to race again Thursday against Artemis Racing. The Kiwis and Italians race again on Sunday.
---
Standings
1. Emirates Team New Zealand 7-0 – 7 points (3 races remaining)
2. Luna Rossa Challenge 3-4 – 3 points (3 races remaining)
3. Artemis Racing 0-6 – 0 points (4 races remaining)
About today's race
Seven-leg America's Cup course
Course length: 15.43 nautical miles
Elapsed time: ETNZ – 46:53
Total distance sailed: ETNZ – 19.0 nautical miles
Average speed: ETNZ – 24.41 knots (28 mph)
Top speed: ETNZ – 41.16 knots (47 mph)
Wind speed: average 15 knots; peak gust 22 knots
---
Also in this section