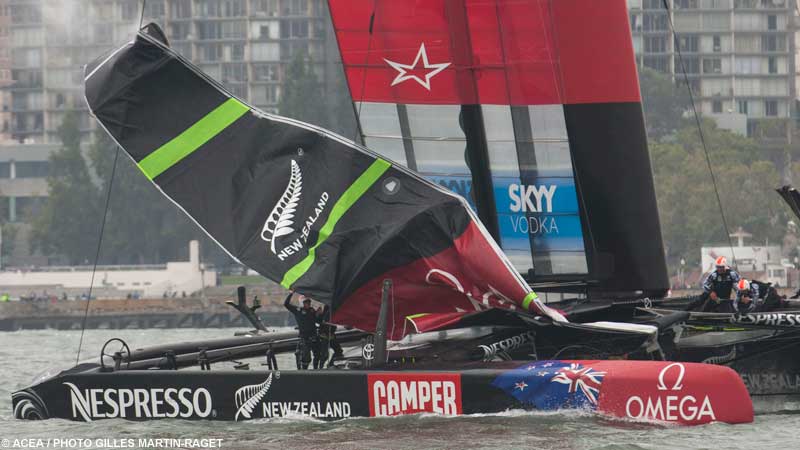 Louis Vuitton Cup
Emirates Team New Zealand overcomes breakdown for impressive victory
lundi 22 juillet 2013 – Information America's Cup
Toutes les versions de cet article : [English] [français]
Emirates Team New Zealand suffered its first breakdown during racing today in the Louis Vuitton Cup, the
America's Cup
America's Cup
#AmericasCup
Challenger Series, but that didn't stop the Kiwi crew from defeating Luna Rossa Challenge.
Sailing on the third of seven legs, a clip failed at the head of the sail that holds it to the headstay of Aotearoa. It took the crew more almost three minutes to detach the sail from the headstay and pitch it overboard, where it was retrieved by crew in the team's chase boat.
Skipper Dean Barker and the Kiwis continued on, powered only by the 131-tall wing foot sail, and defeated the Italian syndicate by 2 minutes and 19 seconds to score their sixth point of the challengers' series.
"It's one of those frustrating, annoying things," said Barker. "We've never ever had an issue with the attachment of the jib before, but as is normal, when you start racing things like this happen. The encouraging thing is the guys did a very good job to address the situation and deal with it. The way the guys responded and settled into it was good."
Emirates Team New Zealand hardly seemed affected by the lack of a jib, but Barker said they need the headsail to balance the 72-foot long catamaran.
"It's very hard to get the boat hooked up in jibes, we didn't jibe as well without the jib," Barker said. "If you were going to sail with the jib only you'd have different board and rudder positions to balance out the boat better."
Skipper Max Sirena's Italian crew improved its performance from the teams' previous meeting on July 13. They cut more than three minutes off the time difference, but couldn't capitalize on the New Zealanders' breakdown.
"We did a few changes on the boat, increased the aero package and a few changes in the systems to the boards," said Sirena. "Today the Kiwis showed really good speed around the course. We sailed well around the course, which was the main goal, but we need to try and improve as a crew and our boatspeed in the next few weeks."
After a day off tomorrow the two teams square off again on Tuesday with the start scheduled at 12:15 pm PT. The race will be broadcast globally on the America's Cup America's Cup #AmericasCup YouTube channel, subject to territorial restrictions, beginning at 12:00 pm.
---
About today's race :
Seven-leg America's Cup course
Course length : 15.43 nautical miles
Elapsed times : ETNZ – 48:10 ; LR – 50:29
Total distance sailed : ETNZ – 19.4 nautical miles ; LR – 19.99 nautical miles
Average speed : ETNZ – 24.19 knots (27.8 mph) ; LR – 23.77 konts (27.35 mph)
Top speed : ETNZ – 38.72 knots (44.5 mph) ; LR – 37.73 knots (43.4 mph)
Wind speed : average 13.8 knots ; peak gust 20.5 knots
The schedule ahead :
Tuesday, July 23, Luna Rossa Challenge vs. Emirates Team New Zealand
Thursday, July 25, Artemis Racing vs. Luna Rossa Challenge
Saturday, July 27, Emirates Team New Zealand vs. Artemis Racing
Sunday, July 28, Emirates Team New Zealand vs. Luna Rossa Challenge
---
Dans la même rubrique