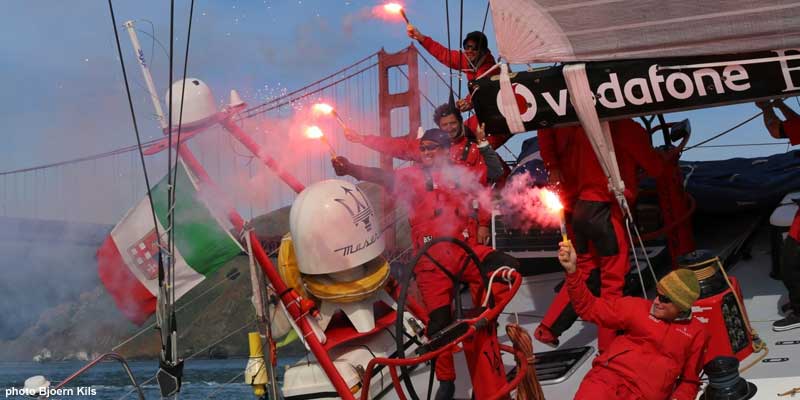 New York-San Francisco Record
Giovanni Soldini set the new record of the Golden Route
New York-San Francisco in 47 days, 0 hours, 42 minutes and 29 seconds
dimanche 17 février 2013 – Redaction SSS [Source RP]
Toutes les versions de cet article : [English] [français]
It's a
record
Record
#sailingrecord
! 47 days, 0 hours, 42 minutes and 29 seconds to sail from New York to San Francisco crossing Cape Horn. Giovanni Soldini and Maserati's team crossed the finish line under San Francisco's Golden Gate Bridge at 18h 31' 59'' GMT (19h 31' 59'' Italian time, 10h 31' 59'' local time), establishing a new
record
Record
#sailingrecord
time reference of the Golden Route, in the monohull category.
"We are happy ! - says Soldini – The Golden Route is an historic record Record #sailingrecord , a very important and challenging one. Now it will bear the colours of the Italian flag. Maserati proved to be a powerful boat, a technological and reliable one. The crew has been extraordinary, everyone was prepared to face even the hardest situation. I want to thank all my companions in this adventure and to thank also all my partners, Maserati, BSI and Generali who allowed all of us to make our dream come true".
Giovanni Soldini and a crew of eight sailors left New York at 17h 49' 30'' GMT of December 31, 2012 aboard Maserati, to challenge the New York-San Francisco record Record #sailingrecord .
---
Voir en ligne : Press info maserati.soldini.it
---
NEW YORK – SAN FRANCISCO RECORD STORY
The 13225 nautical miles that separate New York from San Francisco via Cape Horn, are an historic route, widely travelled by clippers that were involved in the goldrush starting from the second half of 1800. The best result of the time was set in 1854 by Flying Cloud, exceptional vessel from the Boston shipyards, that reached San Francisco in 89 days and 8 hours, a record that stood for more than 130 years. After several attempts by many boats, the 60-foot Thursday's Child of Warren Luhrs arrived in San Francisco after 80 days and 20 hours in 1989. In 1994, Isabelle Autissier aboard Ecureuil Poitou took 62 days and 5 hours. Then, in 1998, Yves Parlier on board Aquitaine Innovations has dropped to 57 days, 3 hours, 2 minutes. This is the reference record for Giovanni Soldini and his crew who will try to beat it aboard the VOR70 Maserati, from the second half of December 2012. The overall record in the multihull category belongs to Lionel Lemonchois that made thejourney in 43 days and 38 minutes aboard Gitana 13 in 2008.
---
Dans la même rubrique