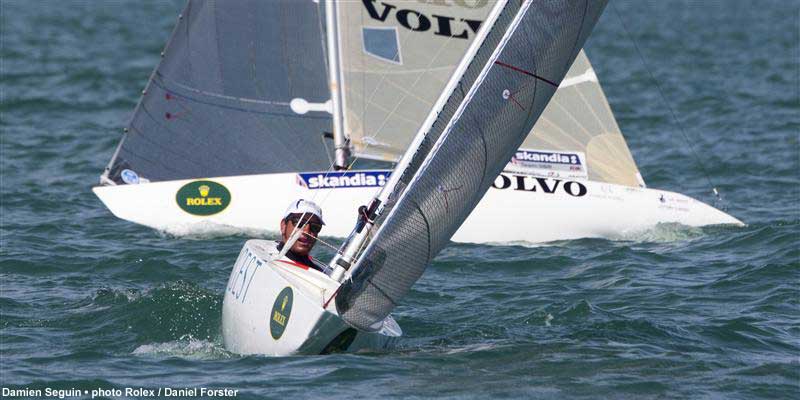 Rolex Miami OCR
Damien Seguin, Fitzgibbon & Tesch and Hessels/van de Veen/Rossen take gold in Paralympic classes
Saturday 28 January 2012 – Redaction SSS [Source RP]
All the versions of this article: [English] [français]
Today was critical for sailors in the three Paralympic classes (Skud-18, Sonar and 2.4mR) at US Sailing's Rolex Miami OCR, where 529 sailors from 41 countries are competing. The Paralympic sailors were topping off five days of racing on Biscayne Bay with two final fleet races to determine who takes home medals. Many of the sailors, including those from the U.S., also were battling for a berth on their respective country's teams for the 2012 Paralympic Games in Weymouth, England, this summer.
France's Damien Seguin, the 2.4mR class's early leader, finished 3-1 today to post 17 points overall and win a gold medal that he can now hang next to his Paralympic Gold from Athens and his Silver from Qingdao. Seguin's performance increased his lead over Canada's Silver Medalist Paul Tingley (with a 2-7 today) to a staggering 25 points—quite an accomplishment in a fleet of 25 boats.
"Damien is very good and very consistent and has been at this a long time," said the USA's Mark LeBlanc (New Orleans, La.), whose finish of eighth overall here (over the 11th posted by fellow US Sailing Team AlphaGraphics member John Ruf) will finally give him his shot at a Paralympic medal. "Hopefully we can train together."
LeBlanc explained that he was in the Paralympic Trials in 2007 and tied for first but, losing out to tie-breaker rules Rules #irc #ims , did not go to the Games, which was heart breaking.
"To be honest, looking back now to where I am versus then I can say I wasn't ready then," said LeBlanc. "I had no idea what was going on and was just going out and sailing, but this time around I'm well prepared and ready to go to the Paralympics."
The Netherlands' Barend Kol snatched bronze with a 4-4 today for 48 points, displacing Great Britain's Megan Pascoe, who was in that position going into today. (Pascoe fell to fourth.)
In Skud-18s, Daniel Fitzgibbon/Liesl Tesch (AUS) won the gold medal after finishing 4-1 today and edging out by only one point silver medalists Alexandra Rickham/Niki Birrell (GBR), who turned in a 3-3. The two teams had been tied on points going into today, with the USA's Jennifer French/Jean-Paul Creignou trailing in third, a position they maintained today for bronze (as well as a spot on the USA's Paralympic team).
"We had a terrible first day," said Fitzgibbon, whose team won here last year and was named to represent his country at the Paralympics after it finished third place in this year's World Championship. "It has been a week of us just chipping away, coming back, coming back, until we were third, second and then last night we got up to first, and today we were able to win in the last race. We were in second going into the final race and we had to beat the British team (Alexandra Rickham/Niki Birrell) to win the regatta. I'm really happy about how it worked out."
Yesterday in Sonars, Udo Hessels/ Marcel van de Veen/ Mischa Rossen (NED) were one point out of first, but today the team secured a gold medal with a 1-2 for a five-point margin over silver medalists John Robertson/ Hannah Stodel/ Steve Thomas (GBR). Taking the bronze was Aleksander Wang-Hansen/ Marie Solberg/Per Eugen Kristiansen (NOR).
Another battle for a U.S. berth in that class made for some of the best sailing of the day when Paul Callahan (Cape Coral, Fla./Newport, R.I.), sailing with crew Tom Brown (Castine, Me.) and Bradley Johnson (Pompano Beach, Fla.), had to finish within two boats of Rick Doerr (Clifton, N.J.)/Brad Kendell (Tampa, Fla.)/Hugh Freund (S. Freeport, Maine) in the last race of the day. A bad start was looking to thwart those chances, and, trailing far behind at the first top mark, Callahan used the next two laps of the course to make up time and finish with a seventh to Doerr's eighth.
"After our three years as a team we were confident we could win (the Paralympic berth)," said Callahan, who is a 2000 Paralympian. "Today the racing was rugged on Biscayne Bay, but I'm feeling like I'm ready to continue on and win a gold medal in Weymouth."
Press info http://rmocr.ussailing.org
---
Sonar (10 boats) – 10 races
1. Udo Hessels/Marcel van de Veen/Mischa Rossen (NED) (23)
2. John Robertson/Hannah Stodel/Steve Thomas (GBR) (28)
3. Aleksander Wang-Hansen/ Marie Solberg/Per Eugen Kristiansen (NOR)(31)
Skud-18 (6 boats) – 10 races
1. Daniel Fitzgibbon/Liesl Tesch (AUS) (18)
2. Alexandra Rickham/Niki Birrell (GBR) (19)
3. Jennifer French (St. Petersburg, Fla.)/Jean-Paul Creignou (St. Petersburg, Fla.,USA) (23)
2.4mR (25 boats) – 10 races
1. Damien Seguin (FRA) (17)
2. Paul Tingley (CAN) (42)
3. Barend Kol (NED) (48)
---
Also in this section