Volvo Ocean Race
Ian Walker's Abu Dhabi Ocean Racing led the Volvo Ocean Race fleet out of Cape Town
Sunday 11 December 2011 – Information Volvo Ocean Race
All the versions of this article: [English] [français]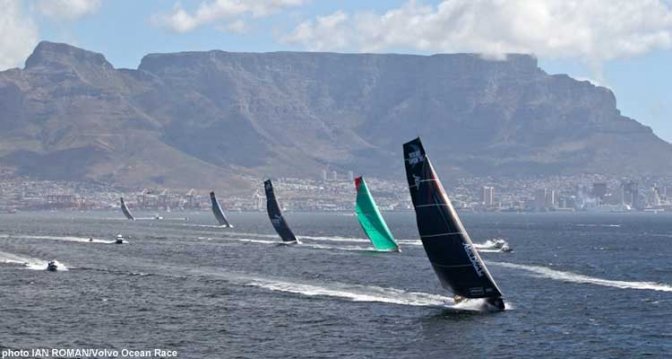 The six Volvo Open 70s – three nursing major repairs – were due for an early test with winds predicted to reach 30 knots as they punched south past the Cape of Good Hope and on towards Cape Agulhas, the most southerly tip of Africa.
The first night of Leg 1 from Alicante to Cape Town saw Abu Dhabi Ocean Racing knocked out with a broken mast and Team Sanya crippled with structural failure and the fleet looked set to face more testing conditions early in Leg 2 with sharp seas and strong winds forecast.
However Abu Dhabi, led by British double Olympic silver medallist Ian Walker, showed no inhibitions as they lead off the start line at 1300 GMT (1500 local time), staying in front of their rivals as they raced around round the 11 nautical mile inshore course in Table Bay in a 5-10 knot breeze.
At the final mark of the inshore course, Abu Dhabi had a lead of 92 seconds over second placed CAMPER with Emirates Team New Zealand. PUMA Ocean Racing powered by BERG, who also lost their mast during Leg 1, were third round the last mark followed by Groupama sailing team, Team Sanya and Team Telefónica. The fleet then headed out into the open ocean, where the first 20 hours were predicted to be a real trial.
Leg 2 is one of the most challenging of the nine legs that make up the Volvo Ocean Race Volvo Ocean Race #VolvoOceanRace , the world's premier round the world yacht race. The teams will face crucial tactical decisions almost immediately as they choose whether, once clear of South Africa, they continue to head south into the stronger winds of the Southern Ocean or sail a more direct course closer to the coast of Africa.
Although the traditional route sees yachts head straight for the Southern Ocean, PUMA skipper Ken Read said there was no obvious advantage to either option this time.
"There's no road map available right now," he said. "Usually there is in this leg – you usually get south, you zip across, then head north in a big square. Not this time. It's definitely something the navigators and skippers will have to sort out on the fly."
Team Telefónica's navigator Andrew Cape, responsible for tactics, said there were "infinite options" in Leg 2. "Straight away we're into 'Do you go south or do you go east?'" said Cape, who helped Telefónica to victory in Leg 1 and again in the V&A Waterfront In-Port Race in Cape Town on Saturday.
"Anything could happen. Getting up through the Indian Ocean is always a nightmare too."
In a move introduced due to the threat of piracy, the fleet will race to an undisclosed Safe Haven Port in the Indian Ocean before being transported by a heavy lift ship to a set-down point along the Sharjah coastline in the northern Emirates, within a day's sailing of the Leg 2 finish in Abu Dhabi.
The fleet is expected to arrive in Abu Dhabi, the first ever Volvo Ocean Race Volvo Ocean Race #VolvoOceanRace stopover in the United Arab Emirates, around January 1.
---
Also in this section