AC45 World Series
Spithill and crew thrive to win treacherous Fleet Racing Championship in Plymouth
lundi 19 septembre 2011 – Information America's Cup
Toutes les versions de cet article : [English] [français]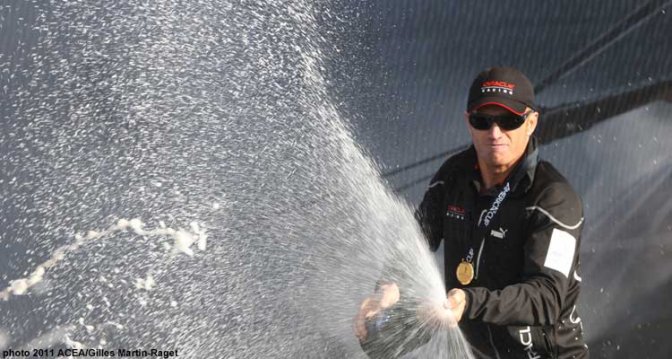 James Spithill made amends for a lackluster Match Race Championship with an emphatic victory in today's winner-takes-all race in the fleet racing. "It's redemption after the match racing," said Spithill, who seemed unfazed by the breeze that bulleted across the course. With winds gusting up to 30 knots (55 km/h / 35 mph), merely avoiding a capsize or a collision was a major challenge but Spithill commented : "I still think we had a bit left in the tank to be honest. The puffiness and change in direction made it challenging, but what a fun race !"
Other sailors might have a different perspective on today. In the anxious minutes leading up to the start, Energy Team capsized trying to avoid Team Korea, although Loick Peyron's crew managed to get the boat upright very quickly and rejoin the race. Moments later there was a dramatic collision with Artemis Racing riding up over the back of Green Comm Racing, with the skipper Vasilij Zbogar falling off the back of the Spanish boat and suffering a minor injury to his hand. With their boat damaged in the collision, Green Comm retired without crossing the start line.
"Vasco (Vasilij Zbogar) and the entire crew are doing well, nobody has been seriously hurt and we will try to be back on the water as soon as possible," said team Executive Chairman Francesco de Leo.
Steering clear of trouble in the pre-start, the two ORACLE Racing boats and Emirates Team New Zealand burst off the start line with other teams following behind. At the first mark China Team capsized but got up and running again. In fact when Artemis capsized later in the race, Charlie Ogletree's Chinese team moved past and managed to cross the finish line 9 minutes and 54 seconds after the winner, just six seconds inside the finishing time limit. A great result for China Team, and a great result for Aleph who moved past Team Korea in the closing stages of the race to take 4th across the line.
With boats touching speeds in excess of 50km/h, it was a wild ride, and while the Kiwis battled hard with the two ORACLE boats, Spithill moved clear on the final lap and Dean Barker had to satisfy himself with 2nd place ahead of Russell Coutts.
"Today it was racing and survival," said Barker, the Emirates skipper. "When the wind cranked in it was full on. The hard thing was not the wind speed but the big puffs which were unpredictable. We always like to win, but nice to get past Russell and take second."
The crowds on Plymouth Hoe increased throughout the week, as the city embraced the World Series and the teams.
"Plymouth has been buzzing with excitement since you arrived," said Councillor Vivien Pengelly. "It is estimated that over 115 000 people have lined the Hoe over the past week to see some of the most exciting racing to ever come to British waters. I have to take my hat off to all of the teams. Your skills are amazing. We've been thrilled to have you here."
The America's Cup America's Cup #AmericasCup World Series now moves on to San Diego, with the first practice races scheduled to take place beginning Saturday November 12. On Wednesday, November 16, the San Diego Match Racing Championship begins, along with television and YouTube live-streaming of the races.
---
CLASSEMENT DU PLYMOUTH FLEET RACING CHAMPIONSHIP
1. ORACLE Racing Spithill 2. Emirates Team New Zealand 3. ORACLE Racing Coutts 4. Aleph 5. Team Korea 6. Energy Team 7. China Team 8. Artemis Racing 8. Green Comm Racing
PLYMOUTH MATCH RACING CHAMPIONSHIP (Samedi)
1. Emirates Team New Zealand
2. Team Korea
3. Artemis Racing
4. ORACLE Racing Coutts
5. ORACLE Racing Spithill
6. Energy Team
7. Green Comm Racing
8. China Team
9. Aleph
---
Dans la même rubrique