2011 MCM Tornado World Championships
Paschalidis Iordanis & Konstantinos Trigonis take the 2011 Tornado worlds title
dimanche 28 août 2011 – Redaction SSS [Source RP]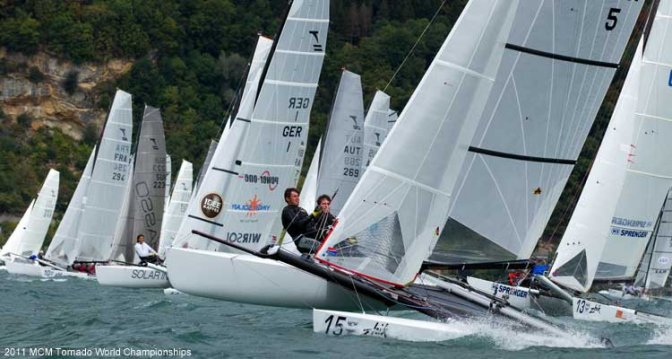 On the last and decisive day of the Tornado World Championships on Lake Biel, the wind gave the 37 Tornados reported from eleven nations, a extravagant, yet challenging final.
The anticipated cold front brought fresh westerly wind of four to six Beaufort. Shortly after ten clock, there was no holding back on the start line. Two false starts were the result. The teams then sailed three races in quick succession. The favourite was impressed by neither wind nor whitecaps and pulled away again. The Australian Brett Burvill Duffield and Ryan (AUS 327) won against the European champions from Greece, Iordanis Paschalidis and Konstantinos Trigonis (GRE 7) and the German reigning World Champion pair of Roland Gaebler and Nahid (GER 1).
In the second race of the day, the Greeks took victory but were OCS and the race was not counted for them. The mixed team of Roland and Nahid Gaebler took victory against the Australians. The native Jean-Marc Cuanillon and Michael Gloor (SUI 232) reached fourth place.
The wind picked up, and capsizes were the result. There have never been so many capsizes in a World Championships, Roland Gaebler said later, he and his wife were affected, they reached the third race of the day but still finished eighth.
The field pulled apart, another 18 boats lined up for the third race of the day. The victory came for the Greeks. In the intermediate standings after four races in total, they were slipped because of a jump start, despite two wins to seventh. Team Gaebler were in the lead before the Australians and Cuanillon / Gloor. The Swiss couple Martin and Julia Rusterholz was ranked 18, they were not able to finish the fourth race.
After a rest on land, the race committee sent the competitors out at 3 o'clock to the last, decisive and very exciting course. The west wind blew with up to force five Beaufort which was mixed with heavy rain. 22 Tornados took off and 20 of them finished. The race was won by the team Gaebler, followed by the Greeks. Thus, the championship was decided by a single point on the Germans, the Greeks brought the title.
This was the first time in Switzerland for the German team and they had not known what conditions they would have to reckon with. To win the title was, however, their goal, Nahid said, after the regatta. Gaebler was delighted at the title in the mixed category, which they brought against the Austrians Nicole and Dietmar Salzmann (AUT 3) and the Rusterholz paring.
The ten who had traveled as Mixed teams are hoping that the Tornado is in Rio de Janeiro in 2016 as the Mixed Multihull for the Olympics.
There is now time for the competitors to rest ahead of the Tornado European Championships on Lake Como, Italy from the 8th - 11th September.
Press info Andrew Dowley / www.tornadochampionships.com

Photos : www.facebook.com/tornadoclass?sk=photos
---
Results
1 GRE 7 Paschalidis Iordanis Konstantinos Trigonis
2 GER 1 Gaebler Roland Gaebler Nahid
3 AUS 327 Burvill Brett Duffield Ryan
4 GRE 11 Mavros Nikos Tagaropoulos Alexander
5 SUI 232 Cuanillon Jean-Marc Gloor Michael
6 GER 60 Beike Donald Syrowy Manfred
7 CZE 686 Krizek David Zdenek Adam
8 AUT 377 Schönleiter Manfred Hirsch-Stronstorff Georg
9 SUI 22 Steiner Marcel Steiner Jörg
10 BRA 7 di Bernardi Bruno Dauden Jose
---
Dans la même rubrique