Extreme Sailing Series Act 2 Qingdao
Luna Rossa win the action-packed Act 2 in Qingdao
dimanche 17 avril 2011 – Redaction SSS [Source RP]
Toutes les versions de cet article : [English] [français]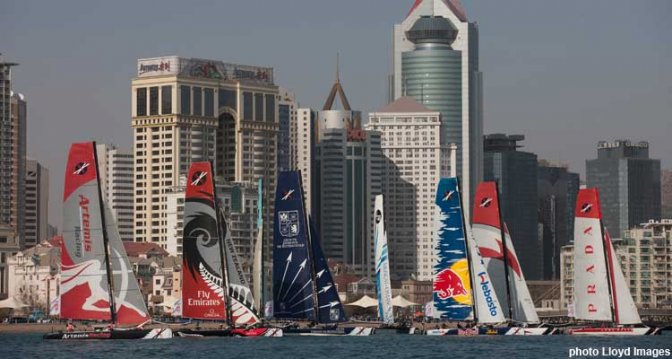 The Italian team fought to the finish to claim the Double Star Cup in the very final double-points race ! "We are really happy," said skipper Max Sirena, "it should be a long night for the Luna Rossa team tonight ! It's a great result for us as we are a new team even if we have Paul and Alistair onboard who where part of the winning team last year, but Manuel and I are still learning. Compared to our result in Muscat, we really see the improvement here in Qingdao as our boat handling and the communication Communication #Communication onboard is a lot better."
The 44 sailors will leave Qingdao with some very vivid memories. The dramatic skyline of the city - the buildings fully lit up at night by neon lights ; the hospitality and graciousness of their Qingdao hosts ; the spectacular opening ceremony ; and perhaps, not surprisingly, the drama of day three. A major collision, 4 capsizes and 1 broken mast was the tally after a day of strong gusty conditions, but the next day following a night of recovery saw all the boats and crew racing again. A brand new edited video, including crew comments about the drama, now up on our YouTube channel.
The Qingdao public witnessed the 11-boat fleet in survival mode on Friday and tactical light-wind battles over the last two days, with fleet racing inside and outside Fushan Bay, one on one match racing and speed duels. Qingdao known as the 'City of Sailing' hosted not only the Olympic sailing events in 2008 but also the Volvo Ocean Race Volvo Ocean Race #VolvoOceanRace and the Clipper Race ; however, the public had never witnessed the close and spectacular racing of the Extreme 40s and they turned up in there thousands.
"The last few days the weather has been difficult but you know we have to be prepared for the difficult conditions," said Dean Barker, Emirates Team New Zealand skipper who talked down his disappointment : "Realistically five boats were still in a position to win the event this morning. We had a couple of shockers yesterday but all in all it went pretty well so I'm very satisfied. The Almeria event was only October last year so being on the podium here is a big improvement, but we still have a long way to go."
The all-French team on board Groupe Edmond de Rothschild, winners of Act 1, also sailed brilliantly today to clinch the final podium place in third.
Red Bull Extreme Sailing, one of the capsize victim's, will be disappointed with their fourth-placed result here after such a strong start in the early stages of Act 2. Similarly disappointed were the Swiss team of Alinghi, who went into the final day challenging for the podium : "We started the event well but it didn't go really well today with a few mistakes on the start lines, tactical decisions, speed of the boat, everything was tough for us," said skipper Tanguy Cariou . "That's a shame, we are really disappointed with the result but we have to analyse and debrief to improve in Istanbul."
Artemis Racing skippered by Argentinian Santi Lange, in place of resident skipper Terry Hutchinson, not surprisingly took a bit of time to find their form without little training time but evolved into a contender at the halfway stage to finish a respectable 6th place. The Wave, Muscat and Oman Air who had a big collision early on day 3 and then both capsized later, finished in 7th and 9th place respectively after rallying in the light airs of the last two days : "What a week it has been for us… I think it's the best day for Oman Air since the beginning of the season. Winning a race today and doing a few good starts was key for us," said Oman Air skipper, Sidney Gavignet. "It's good to believe in ourselves again, we were looking like stupid freaks two days ago and I think we look a bit more solid today."
Roland Gaebler's Team Extreme who look to sail with a local sailor at each venue, were really happy with their performance here posting three race wins to finish in 8th place overall. Both Yan Zhi Zhang from Qingdao and William Wu from Shanghai got the opportunity to train and race with the team over the five days. Rounding up the Act 2 leaderboard were the Italian team Niceforyou and Britain's Team GAC Pindar who both displayed some winning moments here but are still climbing the Extreme 40 multihull learning curve.
The 2011 Extreme Sailing Series Extreme Sailing Series #extremesailing now heads for Istanbul, Turkey, over the 25th-29th May. Two different winners so far – Groupe Edmond de Rothschild (Act 1 and holding on to the 2011 overall leaderboard) and now Luna Rossa – will we see another team claim victory in Istanbul ? The winning skipper of Act 2 can't wait : "Now, we are really looking forward to Istanbul as I'm sure the competition will be really close again," concluded Max Sirena.
Press info www.extremesailingseries.com
---
Overall standings after Day 5 (17.4.11)
Position / Team / Skipper & crew / Points
1st Luna Rossa (ITA), Max Sirena / Paul Campbell-James / Alister Richardson / Manuel Modena 227 points
2nd Emirates Team New Zealand (NZL), Dean Barker / Glenn Ashby / Jeremy Lomas / Richard Meacham 222 points
3rd Groupe Edmond de Rothschild (FRA), Pierre Pennec / Christophe Espagnon / Thierry Fouchier / Hervé Cunningham 214 points
4th Red Bull Extreme Sailing (AUT), Roman Hagara / Hans Peter Steinacher / Will Howden / Craig Monk 200 points
5th Alinghi (SUI), Tanguy Cariou / Yann Guichard / Nils Frei / Yves Detrey 198 points
6th Artemis Racing (SWE), Santiago Lange / Rodney Ardern / Morgan Trubovich / Andy Fethers 174 points
7th The Wave, Muscat (OMA), Torvar Mirsky / Kyle Langford / Nick Hutton / Khamis Al Anbouri 150 points
8th Team Extreme (EUR), Roland Gaebler / Bruno Dubois / Sebbe Godefroid / William Wu 141 points
9th Oman Air (OMA), Sidney Gavignet / Kinley Fowler / David Carr / Nasser Al Mashari 137 points
10th Niceforyou (ITA), Alberto Barovier / Mark Bulkeley / Daniele de Luca Simone de Mari 122 points
11th Team GAC Pindar (GBR), Ian Williams / Brad Webb / Gilberto Nobili / Jono Macbeth 64 points
Extreme Sailing Series 2011 Overall Standings
1st Groupe Edmond de Rothschild, 20 points
2nd Luna Rossa, 18 points
3rd Emirates Team New Zealand, 18 points
4th Artemis Racing, 16 points
5th Red Bull Extreme Sailing, 15 points
6th Alinghi, 13 points
7th The Wave, Muscat, 10 points
8th Team Extreme, 7 points
9th Oman Air, 7 points
10th Niceforyou, 4 points
11th Team GAC Pindar, 2 points
---
Dans la même rubrique