ISAF Rolex World Sailor of the Year Awards
Blanca Manchón and Tom Slingsby sailors of 2010
"I am very moved to have won this award" said the spanish windsurfer
mercredi 10 novembre 2010 – Redaction SSS [Source RP]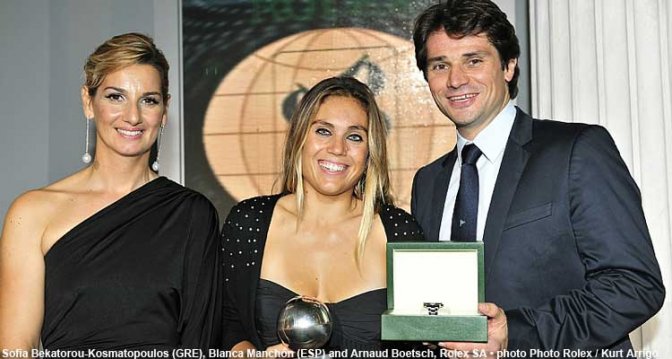 Blanca Manchón (ESP) and Tom Slingsby (AUS) joined the sailing world's list of highest achievers last night, as they were respectively named female and male recipients of the 2010 ISAF Rolex World Sailor of the Year Awards.
No stranger to the ISAF Rolex World Sailor of the Year Awards, having already been nominated three times in her career, Blanca Manchón was overjoyed to have finished her evening with the World Sailor Trophy clutched firmly in her grasp. "This is fantastic ! I have my family and friends here with me tonight and we were hoping that this would be the night. I was up against so many amazing women here so I am very moved to have won this award." Over the past year and more, this Windsurfing World Champion and double World Cup winner has been on a winning streak that has left others swimming in her wake.
Born in Spain in 1987, Manchón has been on the water for almost as long as she remembers, starting out sailing in the Optimist class at only seven years old. She began windsurfing at nine and by age ten she was already participating in her first World Championship, joining the Junior class despite her unusually young age. Manchón had her first international podium at the age of 12, in 1999, when she won a silver medal at a competition in France.
She completed her baccalaureate in 2004, the same year that she became the first junior to represent Spain in the Olympic Games, in Athens. She had just turned 17 and had placed 7th in the Mistral World Championship in Cesmi, Izmir, Turkey, proving herself as a force with which to be reckoned. Manchón subsequently finished 8th in the Athens Olympic Games in the Mistral class.
Yet the best was still to come, and in 2005 she became the Youth Sailing ISAF World Champion in Busan, Korea, the European Youth Champion and the World Youth Champion, all in the Mistral class. These results lifted her to third in the ISAF World Ranking and she won the Spanish Olympic Committee's "Most Promising of the Year" award. 2005 also marked the first time she was nominated for the ISAF Rolex World Sailor of the Year Awards.
Manchón's impressive results continued through 2006, when the Olympic board was changed to the RS:X. She bid adieu to her career in youth sailing with a bronze in the ISAF World Youth Sailing Games in Austria and went on to become the first European Champion in the new RS:X category, winning gold in Alacati, Turkey.
After suffering an injury in 2007, Blanca Manchón came back eager and was rewarded with multiple podiums and the bronze in the RS:X European Championship in Limassol, Cyprus. Her 2008-2009 season was incredibly strong, and in September 2009 she was crowned 2008-09 ISAF Sailing World Cup Champion after dominating the competition throughout the seven-regatta series. Manchón sealed the deal with a victory at the final regatta of the series, Skandia Sail for Gold in Weymouth, which brought her total of gold medals to four and bumped her into 2nd in the ISAF World Ranking.
Manchón claimed the silver medal at the 2009 RS:X Worlds in Weymouth, but she had her sights set on gold. One year on and the RS:X fleet were in Denmark this August for the 2010 World Championship. This time Manchón would settle for nothing less than the top of the podium, working hard and digging deep to come from behind in the Medal Race to take the win.
Today Manchón is still one of the busiest sailors on the circuit. This talented, young windsurfer sailed at six of the 2009-2010 ISAF Sailing World Cup regattas and finished on the podium at five of them. Second in Miami was followed by a silver in Hyères. She then claimed her first gold of the series at the Delta Lloyd Regatta before finishing both Kieler Woche and Skandia Sail for Gold with the silver medal. The impressive consistency of Manchón secured her a second consecutive ISAF Sailing World Cup win and she has been ranked 1st in the ISAF World Rankings since 21 September 2010.
Her sights are currently fixed on the 2012 Olympic Games. "My goal is to win gold at the Olympic Games, this would truly be a dream come true for me," said Manchón at last night's ceremony. "No Spanish sailor has ever won an Olympic windsurfing medal so I am going to do my best, we will have to see in 2012. I am still very young and I have many dreams, I want to do so many things. This will not be the last you hear of me and, who knows, I hope I will be seeing you again some day here again at these Awards !"
Manchón was not the only top sailor nominated for last night's ceremony who received the silver World Sailor Trophy and a Rolex timepiece. Australian Tom Slingsby was named male recipient of the award, and is no stranger to success himself.
2010 marks the first time an Australian has won the ISAF Rolex World Sailor of the Year Award, and although unable to attend the Award's ceremony in person, due to electrical storms grounding flights out of Sydney, Tom accepted his prize live over the phone, with understandable enthusiasm, "wow, thank you ! Winning this award is a great honour. The sailing greats have been nominated for and won this award before, I don't feel like I'm up there with those guys and was thrilled just to be nominated in the first place." Following the ceremony Slingsby added, "I remember sitting on the rocks on Sydney Harbour about 10 years ago watching two greats, Ben Ainslie and Robert Scheidt – two former winners of this award – do battle at the Sydney Olympic Games. I remember that was the moment I realized this was really what I wanted to do and it's a great honour to have my name said in the same breath as people like that, people I've looked up to."
Born in 1984, Slingsby hails from the Central Coast of New South Wales. Like many Sydneysiders, Slingsby grew up with nautical influence in his life from a young age, and remembers doing his first competitive sailing at eight years old. While tempted by a potential career in tennis, he decided at 15 that sailing was his preferred sport and by the 2004 -2005 season, Slingsby had become a regular on the podium. With his class win at the Semaine Olympique Francaise in Hyères, he set himself off on a series of wins that would put him among the top three favourites for that year's Worlds in Fortaleza, Brazil.
In a tragic turn of events, illness sidelined him from the event, throwing a wrench into the plans of the up-and-coming Australian sailor. Not to be deterred, Tom Slingsby shook off his disappointment and set his sights on 2006. Once again he took the top spot in Hyères and went on to win the Holland Regatta (Medemblik, The Netherlands). He placed second at the Laser World Championship (Jeju, South Korea) and ending the year with two Australian podiums (Sydney International Regatta and Australian Laser Championships).
2007 would prove that Slingsby was on a road to recovery, albeit a rocky one. He began the year with a second at the Rolex Miami OCR and went on to win the ISAF Sailing World Championships in Cascais, POR. He set his sights on Olympic dreams and began preparing for the 2008 Summer Games. He went into the Games ranked number one in the Laser class. Despite his hard work and preparation, Slingsby finished 22nd. In a subsequent interview with The Australian, Slingsby said, "After the (Beijing) Olympics, going in as one of the favourites and coming away with 22nd, I was really destroyed. I wondered if I wanted to do it again. After a few months I decided to go again but I would take it a bit easy."
Slingsby's results following the Beijing Olympic Games were not what they had once been, and he realized that what he really wanted was to win. "I went through a difficult time after the Olympics and 2009 was not a great year for me," said Slingsby. "It was tough and I had almost no good results in World Championship events. So I decided to change a few things up, and I started concentrating more on the process and less on the results and then the results just started to come in." Slingsby set himself back on track with his 2009 win at Skandia Sail For Gold in Weymouth and Portland and finished the year as the Australian Laser Champion. In 2010 he picked up the Etchells national title in January
As if he was not busy enough, Slingsby decided to try his hand at a different type of action and again met with success. Sailing as tactician on the Farr 40 Transfusion, Slingsby helped guide the team the Australian national title in March and then to second overall at the Rolex Farr 40 Worlds in the Dominican Republic in April. He then returned to the Laser and the ISAF Sailing World Cup circuit, sailing three of the 2009-10 regattas and winning all of them : Delta Lloyd, Kieler Woche and Skandia Sail for Gold.
In between his gold medals in the Laser, Slingsby travelled to Ireland for the Etchells Worlds with a team led by former America's Cup America's Cup #AmericasCup skipper John Bertrand and including fellow Beijing Olympian Andrew Palfrey. The team took charge from the second day of racing and with five wins in the nine-race series, they were able to sit out the final race and still take the crown as the 2010 World Champions.
The final fling for Slingsby in 2010 was back in the Laser at the Worlds on Hayling Island, UK, and once again the Australian dominated, claiming his third Laser world title with a 36-point margin over the silver medallist.
Yet Slingsby will not rest on his laurels. The London Olympics in 2012 are on the near horizon and atoning for the disappointment of 2008 is the goal. According to Slingsby, his recent successes have "been a great way to start my campaign off ; now it is all about taking that momentum and to keep building." In between, there is the possibility of a fourth Laser World title in 2011, when the event is part of the ISAF World Championships in Perth, Australia. Sydney will host the 2012 Etchells Worlds, about which Slingsby explains, "we were actually talking about it on the way in from the last day of the Worlds in Dublin. I had initially planned to get my own team together, but now I think I might sail with John and Andrew again !"
Slingsby likes to keep variety in his sailing : "I have the Moth and Rolex Farr 40 World's in the first two months of 2011, both in Australia." He feels he learns more about technology, apparent winds and high-speed sailing in classes other than just the Laser. In this pursuit for knowledge he has raced catamarans, including the A-Class Worlds. "It is just a new challenge, something I don't know too much about. I really want to learn about that sort of sailing, expand my knowledge. To do well across many classes is the direction I want to go, I like to think that I can win across many disciplines as a well-rounded sailor and I want to just keep on going down that route."
With a clearly defined mission, and well on their way to future success, both Manchón and Slingsby have worked incredibly hard to realize as much as they have, achievements acknowledged by the international sailing world last night as they became the 2010 ISAF Rolex World Sailors of the Year.
In addition to the two winners, the list of nominees for the 2010 ISAF Rolex World Sailor of the Year Award included :
FEMALE SAILOR
Kristin Boese (GER) – Nine-time

Kitesurf

Kitesurf

#Kitesurf

World Champion
Siripon Kaewduang-Ngam (THA) – Youth Olympic Games gold medallist
Lisa Westerhof & Lobke Berkhout (NED) – 470 World Champions
MALE SAILOR
Antoine Albeau (FRA) – Professional Windsurfing Association & Formula World Champion
Mat Belcher and Malcolm Page (AUS) – 470 World Champions and World Cup winners
Lorenzo Bressani (ITA) – Melges 24 and 32 Champion
Franck Cammas (FRA) –

Record

Record

#sailingrecord

-breaking offshore racer
Ed Wright (GBR) – Finn World Champion and double World Cup Winner
Press info Regattanews / ISAF Rolex World Sailor of the Year Awards / www.sailing.org/worldsailor
---
Dans la même rubrique