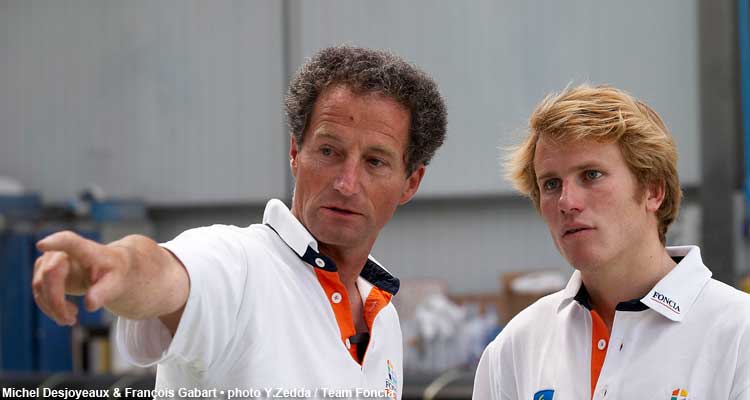 Barcelona World Race
Michel Desjoyeaux has chosen François Gabart
44 yo double winner of the Vendée Globe will pair with 27 yo Figaro sailor
jeudi 3 juin 2010 – Redaction SSS [Source RP]
Toutes les versions de cet article : [English] [français]
Michel Desjoyeaux has chosen François Gabart to accompany him in the next
Barcelona World Race
Barcelona World Race
#barcelonaworldrace
aboard the brand new monohull Foncia. The two men, who will be joining forces for the first time, will together take the start of the second edition of this double-handed round the world, due to set off on 31st December 2010 from the Catalan capital.
"When I learnt that Michel was preparing for a new Imoca Imoca #IMOCA project and having a brand new boat built for the Route du Rhum Route du Rhum #RouteDuRhum and then the Barcelona World Race Barcelona World Race #barcelonaworldrace , I got in touch straightaway. Barely an hour after his press conference in Paris (21st January 2010), I sent him a message. I said to him : if you're looking for someone for next winter, I'm up for it. He took note. However, I wasn't the only one to put myself forward" says François, who learnt the good news on 18th May 2010.
"Opting for François was practically a done deal in my head since February, but I was concentrating on the construction of the boat and I wanted the project to mature. I discussed it with Christian Le Pape, our coach from Port-La-Forêt and together we concluded that this was the right choice" explains Michel.
The two guys met in the winter of 2007/2008 when François settled in the nearby Forêt Fouesnant, NW Brittany, and won the Challenge Espoir Région Bretagne. Since then they've rubbed shoulders with each other, but had never sailed together until recently, during the Grand Prix de Douarnenez Douarnenez #Douarnenez .
This association is the union between two solo racers, two Figaro sailors and, practically, two generations. Michel Desjoyeaux (44 yrs) has always liked the role of passing on knowledge and is very quick to help the more promising talents get a step up the ladder. François Gabart (27 yrs) is one such talent : a young engineer with a real gift for racing, who enjoyed his first successes in dinghy sailing, prior to making a swift rise in the Figaro scene. Today he is the "Skipper Macif" with a Figaro programme lined up until 2011, which he will continue in conjunction with his preparation for the Barcelona World Race Barcelona World Race #barcelonaworldrace . The sports calendar which awaits him over the coming 18 months is going to be an extremely busy one then, but this is further galvanising his enthusiasm : "The desire to go around the world on these big boats has been consuming me for the past year so I'm ecstatic about this. Doing the Barcelona World Race with Michel Desjoyeaux, on a new boat as well, is exceptional for me. I think it would be hard to beat this !"
When you ask him the reasoning behind his decision, given that it might have been more comfortable to set out with a more experienced co-skipper, Michel isn't short of arguments : "for his youth, his freshness, his intellectual capacities and his constant desire to try to understand things. He's a sailor as well as an engineer. He's never done a round the world, but I think he's someone who pulls you upwards. It's not just his potential which is appealing, it's also his mindset. He has another culture, another view of things and it's also a way for me not to get stuck in routine".
Despite his round the world experience, it certainly won't be an opportunity for Michel to play the schoolmaster role, quite the contrary in fact : "I'm counting on him to conserve his free will and be pushy. It would be of absolutely no appeal to me if he were to come along and play the yes-man and do the sheeting in whenever the telltales jiggle !"
Info presse www.teamfoncia.com
---
Foncia's hull arrives
This announcement coincides with the arrival in Port-La-Forêt of the new 60 footer, Foncia, from Lymington (UK) where she was being manufactured at Green Marine. The construction is progressing well and the assembly of the Foncia jigsaw will continue at CDK Technologies until late August, at which point she is due to be launched. Michel Desjoyeaux is still very much involved in this task and intends to delegate part of the work to his co-skipper. "I'm not going to ask him to tighten the bolts, it's not his thing. However, I am going to entrust him with every aspect of preparing the tooling for managing and analysing the boat's performance". Quite a busy schedule in store then.
They now have 211 days left before the start of the Barcelona World Race. 211 days, during which time Michel has an 18 metre monohull to complete and a Route du Rhum to compete in. Meantime François also has a bit on : Quiberon Solo, Solitaire du Figaro and Cap Istanbul in the autumn, all of which form part of his autumn race programme. This Thursday the two men got together in the offices of Mer Agitée to discuss their respective schedules and missions. Their collaboration has only just begun…
---
Dans la même rubrique