SeaSailSurfer
SeaSailSurfers of January 2010 : Dyen & Christidis
French crew on the 49er circuit, winners of the Rolex Miami OCR
Tuesday 2 February 2010 – Christophe Guigueno
All the versions of this article: [English] [français]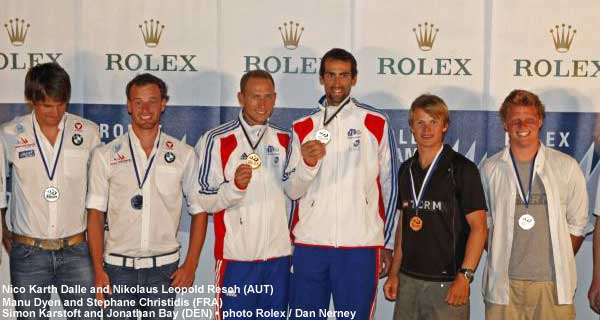 After a 4th place in the 49er worlds, french pair Manu Dyen and Stephan Christidis came back from Miami with a beautiful gold medal. The two men are SeaSailSurfers of January. On the other hand, their supplier is not at the level of the olympic team of France…
"We are satisfied because, after the worlds, we had the statute of leaders and we succeeded in carrying it" said Manu Dyen and Stephan Christidis at the conclusion of Rolex Miami OCR. They can be satisfied because it is their first win in the World Cup, the Olympic weeks circuit.
Sorry for the clothes
The problem, when we see the official photo, comes from the french crew clothes… How the supplier of the France olypic team can carry out that kind of clothes for official price givings ? That can be understood for an athlets team whose members have few time from the stadium to the podium… But an international olympic team in sailing dressed like this… The French Federation' supplier has to do better !
---
SeaSailsurf barometer of the month
| | | Going Up |
| --- | --- | --- |
| | Iain Percy | a new gold medal for the Olympic and world champion of Star |
| | Michel Desjoyeaux | Foncia' skipper is spoiled by its sponsor until 2014 |
| | Franck Cammas | Finally Groupama 3 sets out again. 3rd one will be the good one? |
| | | Going Down |
| | Pascal Bidégorry | Cammas starts again in first |
| | Océans | The movie on the sea world is disappointing |
| | France Olympic team | the official supplier of the olympic team of France has to do better |
---
Also in this section