Team Alinghi
Ernesto Bertarelli : "'USA' is a French boat"
"I am in it for the sailing ; I am not in it for the legal fight"
mercredi 20 janvier 2010 – Redaction SSS [Source RP]
Toutes les versions de cet article : [English] [français]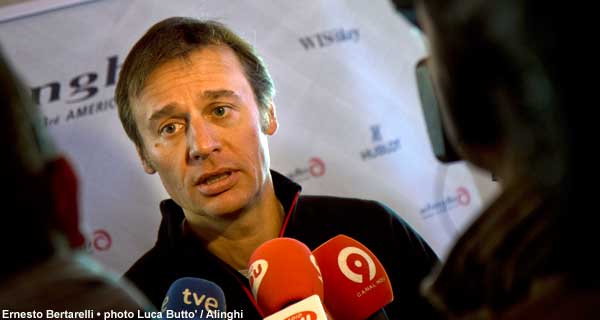 With less than three weeks to the first race of the
America's Cup
America's Cup
#AmericasCup
, Alinghi held an open day at its base in Valencia for international media to come and learn about the racing and what to expect just 19 days from now. Too much wind prevented Alinghi 5 from sailing, but it gave people a chance to have a closer look at the boat.
Alinghi team president, Ernesto Bertarelli, and team skipper, Brad Butterworth, set the day in motion with a few words on the recent race training with Alinghi 5 in Valencia : "We are ready, we are sailing, the team is in place and the excitement is apparent. We finally saw our competitor sailing yesterday and they also seem ready, so let's go racing and have a great America's Cup America's Cup #AmericasCup Match on 8 February. Let's try to get away from the past two years of troubles and discussions and let's see who has the fastest boat," declared Bertarelli.
Sailing and sport was the topic of the day with workshops on 'AC33 : The Match' by Ed Baird, one of the Alinghi helmsmen, and on 'Alinghi 5 : the design and technical challenges', by Rolf Vrolijk, chief designer, and Silvio Arrivabene, construction and planning manager. Unfortunately as has often been the case during the 33rd America's Cup America's Cup #AmericasCup , BMW Oracle's latest legal manoeuvring could not be ignored. Ernesto Bertarelli's retort to the American team's most recent tactic was : "I am in it for the sailing ; I am not in it for the legal fight – way back in 2000 when we launched the team, the objective was to go sailing and it remains so. Now we are on BMW Oracle's ninth lawsuit : their partial interpretation of 'constructed in country'. Our boat is Deed compliant, but if BMW Oracle continues to contest our sails, they should consider their own issues, beginning with the fact that 'USA' is a French boat. On top of that this morning they asked for redress before the Jury. Obviously Ellison and his team's strategy is to try and gain as much advantage as they can through the New York courts and they have done this quite well so far but, regardless. What matters is who wins on the 8, 10, 12 February."
With the Sailing Instructions (SI) and amended Notice of Race (NOR) recently published, Alinghi team skipper, Brad Butterworth added a word on the process : "Drafts of the NOR and the SI have been going back and forth between the teams, the Jury and the principal race officer, Harold Bennett. I am a bit disappointed that we might have a redress thrown at us over little procedural elements of the Sailing Instructions which have been in the NOR for a long time. We are in the position of many yacht clubs around the world whereby SNG has the responsibility of putting on the regatta. If GGYC were the Defender, they would have the right to create the Notice of Race and the Sailing Instructions, but they aren't. It is SNG's regatta, we have tried to be as open as we can and asked for their comments and we have implemented a lot of them in the different documents, but it is still not enough to convince them that SNG is running the regatta and they are not. We are looking forward to sailing ; we have had some good conditions here, and some hard, but the race training so far has been good, so we're really looking forward to racing them on the 8th."
Press info Alinghi Media / www.alinghi.com
---
Dans la même rubrique