The incident occurred during a straightforward collision avoidance manoeuvre. "We had a port and starboard, us on port them on starboard," explained SEB skipper Gunnar Krantz. "We tried to duck them and missed the duck and touched them on the port aft corner with our bow. And made our 720 and continued racing."
Krantz continued : "The problem was probably miscommunication maybe"
One of the fundamental rules of road in sailing or yacht racing is that when two boats are on a collision course the boat on port tack (with the wind coming over the left side of the boat) must give way to another sailing yacht on starboard tack. While the boat on starboard must hold her course, the helmsman on the port tack boat has two options - to try cross in front of the other boat without forcing the other boat to alter course, otherwise they must bear away and 'duck the transom' of the other boat. The Racing Rules of Sailing and the sailing instructions for the Volvo Ocean Race provide a way to exonerate after such an incident by completing a 720-degree turn with the yacht. The rules also say, that a yacht that causes serious damage through her breach of the rules shall retire.
SEB was travelling at around eight to nine knots when her bow hit illbruck. Illbruck's skipper John Kostecki said that the collision was roughly one metre forward from the transom and fortunately because it was on their leeward side, all the crew were on the opposite side of the boat, so no one was hurt.
The impact resulted in a hole, the "size of your fist" in illbruck's hull. The Swedish boat's stem then scraped down the hull ripping out the aftstanchion that holds illbruck's guardrails. "It was pretty surprising," Kostecki went on. "It was 13 knots of wind and we had jibs up so it wasn't like the big overlapping Code Zero where you couldn't see to leeward. The visibility was good. I don't know - they just mistimed it I guess and hit us."
John Kostecki said that they were able to repair the hole before dark last night and will make further repairs this morning. The repairs cost them little in distance, other than the weight penalty of having 2-3 people down to leeward for the time it took to make the repairs.
Since the start of the leg in Rio the racing has developed as close as ever. After beating into light headwinds along the Brazilian coast on a very narrow track towards Cape Frio, News Corp was the only yacht to tack right at the Cape and subsequently moved from last to first. The other yachts expect to get a right hand wind shift further to the east and regain what was lost to News Corp.
---
Volvo Ocean Race Position Report, Day 2, 0946 GMT
PS Yacht Latitude Longitude DTF CMG SMG DTL DTL-C ETA PO

1 NEWS 22 39.40S 040 56.12W 04366 075 08.2 0 -3 27 MAR 02 27

2 TYCO 22 51.88S 040 42.80W 04373 082 08.1 7 +7 27 MAR 02 25

3 AONE 22 51.84S 040 43.28W 04373 082 08.0 7 +7 27 MAR 02 28

4 AART 22 53.12S 040 42.88W 04374 083 08.2 8 +7 27 MAR 02 25

5 ATOO 22 53.00S 040 45.40W 04375 082 08.1 9 +7 27 MAR 02 11

6 TSEB 22 52.68S 040 46.64W 04375 082 07.9 9 +7 27 MAR 02 15

7 DJCE 22 54.28S 040 42.80W 04375 084 08.1 9 +8 27 MAR 02 19

8 ILBK 22 55.36S 040 44.28W 04376 085 08.0 10 +8 27 MAR 02 30
---
Dans la même rubrique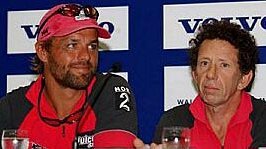 Djuice Dragons skipper Knut Frostad , and Navigator Jean Yeves Bernot - second into Rio on Leg 4 of the Volvo Ocean Race. Photo : Rick Tomlinson.