Trophée Jules Verne
Geronimo on her way home
Thursday 7 March 2002 –
Since returning to the Northern Hemisphere, Geronimo has been making good headway towards her destination in Brittany. The task now facing the Cap Gemini Ernst & Young – Schneider Electric team is to reach
Brest
Brest
#brest
as quickly as possible and get started on diagnosing and repairing the problems encountered with the boat's steering gear at high
speed
Speed
#speedsailing
.
"We're charting a course towards a position 20° North and 40° West", explains Olivier de Kersauson "and we're making somewhere between 14 and 18 knots, depending on wind strength. We're going rather out of our way to avoid a low pressure system off Portugal". Geronimo therefore has some 4000 miles (7400 km) yet to cover before she reaches her home port. This remains, therefore, very serious sailing and the 11-strong crew continue to extract the best safe performance from their craft.
Although it is still impractical to give any meaningful ETA, it will take at least another ten days at sea – a period in which Olivier de Kersauson has no intention of sitting back quietly. "I'm in regular contact with the naval architects and designers to discuss what we'll do once we get there". A number of solutions have already been suggested, but everything is based on guesswork until the steering gear is dismantled and a series of tests run on the rudder blade. "It's only then that we'll know what we have to do, because any diagnosis I make at this stage is really nothing more than a guess".
Until then, the crew will be using this rapid return leg to find out even more about Geronimo. "We're using this trip to get to know our boat better, so we don't really have anything to complain about. Even so, it's all very well learning more, but it's nothing like the real thing!"
Information Rivacom pour Geronimo. A suivre sur http://www.grandsrecords.com
---
Also in this section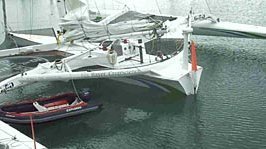 The new trimaran in the port of La Rochelle. Note the rudders (in orange). Photo : Bernard Gergaud.