Jules Verne Trophy
Orange to the Canaries in less than three days
Tuesday 5 March 2002 –
The 1500 mile mark since leaving the Créac'h lighthouse (Ushant) astern was passed today Tuesday March 5
th
at 1100 GMT. The maxi-catamaran Orange continues to "reel in" the miles and this morning left the Canary islands to port still flirting with an average of 20 knots over
24 hours
24 hours
24 hours best distance covered records
. And things are likely to look up for Bruno Peyron and his crew because the wind should be setting in from the east within the next few hours and, "that's what we're hoping for!" dixit Bruno Peyron.
"Conditions are quite different today" Bruno Peyron told us during today's radio link. "We have gone from rather tough conditions with fairly violent squalls to a trade wind that isn't really one, it's rather slack, with 12/13 knots from the north-east. I'm fairly pleased with our position because we were able to pass outside the Canaries. I didn't want to go through them for fear of getting parked between islands. And the night was quite good, even if we were blocked for several hours at between 6 and 7 knots. But our 24 hour score is quite correct (452.4 miles at 1300 this morning at 18.85 knots average) and reaching the Canaries in 2 days and 20 hours isn't too bad!"
So the maxi-catamaran Orange is continuing her southward descent downwind, gybing at each slight change in the direction of the wind. The objective is simple; gain to the south heading for the Cape Verde islands then slightly curve to the west to cross the Doldrums with its infamous whimsical weather around latitude 25°N. But for the time being, the objective is to cross a little ridge of high pressure that is generating rather light winds, rather capricious in direction. "We're carrying a full main and the big gennaker at the moment and we're slipping along at 18 to 19 knots. The sky is grey after being sunny this morning and the sea is quite calm" declared the skipper. "We're impatiently waiting for what the weather files have been announcing, that's to say a strengthening of the wind more easterly in direction. That would enable us to pass outside of Cape Verde islands (670 miles away at 1300) on just one gybe." Needless to say that a direct route on one gybe in a steady trade wind would speed Speed #speedsailing the maxi-catamaran Orange all the quicker down to the Equator 1700 miles away at midday today.
"On board we're keeping a permanent eye on the boat!"
It's non-stop! Indeed, in addition to driving the boat as fast as possible and above all pointing her in the right direction, each member of the crew is responsible for his "sector of activity". "You have to anticipate everything and it's not when you have a problem that you should start to check it all over. For example, at the moment it's fairly calm and we're going to take advantage to send Florent (Chastel, in charge of rigging) up the inside of the mast to check all the halyards" continued Bruno Peyron. "It's true that it can be a bit stressful and it's no good if you're claustrophobic when hauled up this huge chimney" added Florent. "I'm going to check everything, including the repairs that were made. But I can't complain, before, I had to haul myself up with the strength of my own arms. Now there's a halyard for hoisting me up the inside, right to the top!"
Quote / unquote...:
Nick Moloney: "It's much pleasanter today. We're in shorts and T-shirts, which is a change from the last few days when we were in oilies. As for the ship's language, French is the official language, but thank goodness, everyone in the crew speaks English. I expect I'll have made quite a lot of progress before we're back!"
Information Mer&Media Media #media / Orange
Map : Geronimo vs Orange
---
Also in this section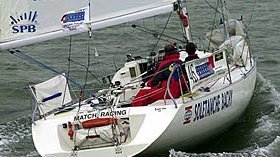 Photo: G.Martin-Raget