Jules Verne Trophy
Geronimo keeps her spirits up
De Kersauson's trimaran becalmed 200 miles from the equator line
lundi 25 février 2002 –
With 200 miles still to go to the equator (at 13:00 GMT today), sailing conditions are hardly in Geronimo's favour. The ten or so knots of wind available mean that the Cap Gemini Ernst & Young - Schneider Electric team trimaran is making very slow headway towards the Southern Hemisphere.
"Even the weather forecasts are up the spout", said a powerless Olivier de Kersauson. "It's therefore very difficult to predict what will happen. This area of heavy, humid, air tends to spread out like water on a table top. Nothing can stop it".
As if the lack of wind wasn't enough, violent storms are no also hindering the progress of the giant grey multihull in her attempt to beat the Trophée Jules Verne record Record #sailingrecord . "It's best not to look at the sky too much if you're of a nervous disposition" roars Kersauson with laughter. He continues on a more serious note : "We're in a sluggish weather system surrounded by lightning slashing across the horizon. Half the time, we have to run the boat with no electricity at all. Sailing without wind direction, electronics and communication Communication #Communication . But then again, we don't want to be struck by lightning and get fried".
Despite having to cope with such difficult conditions, Olivier de Kersauson and his crew are certainly not giving in to the pressure and continue to manoeuvre the boat in a constant attempt to catch even the slightest breeze. The work schedule for the Cap Gemini Ernst & Young and Schneider Electric watches (who do six hours on deck turn and turn about) is punishing but is also being done in great good humour. "The solution to this problem lies in our ability to move out of this windless area. When will that be ? I just don't know at the moment. What I do know is that Geronimo is certainly keeping her spirits up !"
---
Dans la même rubrique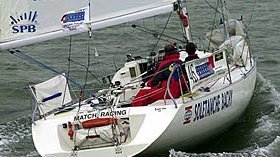 Girls are no more on Club Med' sails. They are at the helm ! Photo : Ch.Guigueno