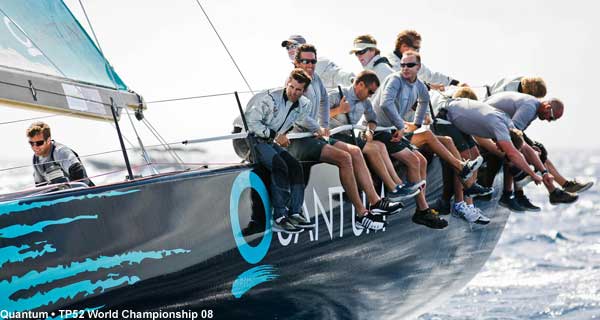 TP52 World Championship
Quantum undisputed TP52 world champion
Mutua Madrileña second overall • Platoon 3rd 0.25 points over Artemis
dimanche 26 octobre 2008 – Redaction SSS [Source RP]
Quantum Racing put a fantastic end to a spectacular season. After being crowned Med champions last month, the American boat helmed by Terry Hutchinson, won the world title after a week of tough racing in Puerto Calero. Vasco Vascotto's Mutua Madrileña takes the silver medal with a similarly good performance. The score table clearly reflects the tight nature of the TP52 fleet. Platoon grabbed 3rd place overall from Torbjorn Tornqvist's Artemis, 2007 champion, at the last downwind leg of the Championship's last race resulting in a mere 0.25 lead.
Two races were sailed in the closing day of the series, both in strong (20 to 30 knots) but tricky conditions. The first race went underway with a 20-knot northeasterly breeze after a 30-minute postponement and was probably destined to be the shortest one the 14-strong fleet sailed in Puerto Calero. Its outcome was decided right on the starting line. While Quantum and Synergy had an excellent clean start, both Artemis and Mutua Madrileña, together with Desafío and Bigamist, were over the line. As a result, most of the suspense and nail-biting excitement everybody was hoping for evaporated. Again, the left played well and Quantum, Synergy and AUDI Q8 opted for it and led the race until the finish line. Top place was going back forth between the American and Russian boats with Synergy finally prevailing. Throughout the race, the left side was definitely favored to the point that boats gybed only once in the first run. Mutua Madrileña and Artemis managed to recover a couple of spots but a 9th and 11th respectively meant they had no options towards the title.
After doing the complete quantum physics calculations, Quantum was World Champion before the start of the second race and the Americans decided to convert themselves to spectators in the last race of the series, in order to avoid influencing the tough three-way battle for 2nd and 3rd overall, taking place between Mutua Madrileña, Platoon and Artemis as any of these 3 boats could finish the championship in any of the two podium places. Artemis led from the start until the leeward gate when Desafío overtook them after picking the right shift and staging a great recovery through the fleet. With Artemis second and Platoon 6th at the bottom mark, the Swedish boat was guaranteed 3rd overall in the Championship. It proved too early to rule Jochen Schuemann out and Platoon passed Cristabella and Bribón and in the final leg it was Matador's turn to surrender to the German attacks. Platoon crossed the finish line in the wake of Artemis and grabbed the bronze medal by the slimmest possible margin, 0.25 points.
Press info Pierre Orphanidis / www.tp52worldchampionship.com
---
Ed Reynolds, President of Quantum Sails / Project Manager of Quantum Racing : It has been an amazing year for the guys ; unbelievable team, top to bottom, every aspect of the program, the people that supported it, everybody at the sail lofts, at the company, the shore crew and the naval architects. Everybody did their best this year and that was very rewarding. I think it's too early to tell what's in store for next year, we are weighing our options but everybody will take some time off. It's been a big accomplishment and unless you're in the middle of it you can't assess the amount of work and effort we put into it, so we'll take some time to relax. I'm pretty confident we'll be back but we'll have to see how it works out.

The rest of the fleet was very tough. In each and every race we had great respect for all boats and teams. Every time we docked out we were thinking how we could be better than the day before. This victory was a tribute to the team and the whole project. This was the best we sailed this year, the best we had the boat going and we never let up the entire year. It might have looked a little easier than it was but 90% of the work necessary to be in this position is done before you come here. We did the work upfront, we were prepared and this world title is a tribute to what great sailors they are.

Puerto Calero was a great venue. The race committee did a great job under tricky conditions and set remarkably good race areas. As I told other people as well, I'm not sure we would have come it if wasn't here. I'm so happy we were able to come and see how beautiful the island is and this place is nice for any event all year long.
Terry Hutchinson, helmsman of Quantum Racing : The guys just threw me in the water, so I'm wet but it's a nice feeling being world champion. It's a really good end to this team's season. We are over the top with excitement and incredibly thankful to Quantum Sails for the opportunity they gave us to represent them in the way we did. I really can't thank everybody enough for the amount of work and support that went in this team. As for the future, it's still too early ; we have to get over the next 24 hours. I will definitely be involved in the TP52 class in 2009 in some capacity but for the moment, we'll enjoy the next 48 hours and then think about next season.
Vasco Vascotto, skipper of Mutua Madrileña : First of all, I have to admit that won the boat that sailed the best. Quantum did a great job throughout a season and this World Championship is a gift to them. Congratulations to Quantum, the crew and their entire team. I think Mutua Madrileña had a great result, being second in this type of fleet means that you obviously sailed well in the championship. Earlier this morning we realized it was very difficult to beat them. Unfortunately we had a premature start, but the race committee called last, 35 seconds after the start !! Yet, we had a nice recovery and it was just a matter of controlling the other boats that could threaten us. It is great to finish second in such a tough world championship. As for the next season, we have already started planning ; otherwise it could be very late. We want to remain in the TP52 class, we know it's expensive and as a result we have to work hard to give our sponsors the best possible visibility. We hope to return with a better project next year and achieve even better results
Jochen Schuemann, helmsman of Platoon : It's an excellent day for Platoon and Germany. We are more than happy with 3rd place ; this is just what we wanted and we made that happen in the very last stretch of the last downwind leg. We are happy we achieved our goal and this just showed how tight the competition is and we have done a good job this season. I think that when considering the options we had here we really wanted a medal, it could have even been the silver one since we are close to Mutua Madrileña. Due to combination of small things, like the water intake in the offshore race, or other small errors, we finally got the bronze. Without any doubt the best team is Quantum, they are the most consistent, they had the best performance and probably nobody could have beaten them. As for 2009, we have sold our current boat to Bigamist and with the new one we are building, we hope to have a strong team next year.
Russell Coutts, tactician on Artemis : We had mixed results today. We were over the starting line in the first race and then got chained up with some other boats over the course and were unable to recover. It was a bad race for us. The second race was going pretty well but actually it was the boats behind us that did some stupid things that allowed Platoon to finish a quarter of a point ahead of us. We sailed too inconsistently in this regatta ; we had good races and some really bad ones. I wouldn't say I'm not happy ; this was a good result for the boat at this stage. Today was a tough day with big waves and we are better on smooth waters, but overall this was not a bad series. I was very impressed by the way Quantum sailed their boat. They are obviously way ahead of everyone else and I was surprised to see that. They had a great result.
Nano Negrín, tactician on Desafío : Finishing seventh overall is not a great result for Desafío but I think that generally speaking, given the early starts and some bad luck we had, a seventh place in a World Championship with two victories is quite good. Conditions have been very tough ; we saw that yesterday as well as today. Boats that finish first in the first race then end up 11th in the second one, while we had a 12th and a 1st today. Look at Artemis, they win and then finish last. This fleet is extremely tight and tough, you either start well a race or otherwise there's nothing you can do. The race course was also very tough for everybody as it started with light winds and then we had much stronger breeze. The clouds over Puerto Calero made the two prevailing winds converge, the land breeze and the northeasterly. At moments the left was the favourite, at times the right. This made everybody's life complicated.
---
FINAL OVERALL STANDINGS (after 11 races)
1. Quantum (USA), Terry Hutchinson, 2-6-1-4-6-2.50-2.50-1-3-2-15, 45.00 points

2. Mutua Madrileña (CHI), Vasco Vascotto, 3-1-6-1-1-11.25-8.75-6-5-9-9, 61.00 points

3. Platoon (GER), Jochen Schuemann, 8-9-12-3-3-6.25-3.75-2-11-4-3, 65.00points

4. Artemis (SWE), Torbjorn Tornqvist, 1-2-2-11-13-1.25-10-11-1-11-2, 65.25points

5. Matador (ARG), Alberto Roemmers, 6-4-5-7-11-8.75-7.50-7-6-5-4, 71.25 points

6. Synergy (RUS), Sergey Pichugin, 7-3-10-5-12-7.50-5-9-8-1-7, 74.50 points

7. Desafío (ESP), Paul Cayard, 5-7-11-12-2-5-1.25-13-10-12-1, 79.25 points

8. Bribón (ESP), Dean Barker, 10-12-4-2-5-3.75-18.75-12-2-7-6, 82.50 points

9. Audi Q8 (ITA), Riccardo Simoneschi, 9-11-3-9-7-10-15-4-13-3-11, 95.00 points

10. Valars (RUS), Sergey Chetvtsov, 4-8-9-8-9-12.50-18.75-8-7-6-8, 98.25 points

11. Bigamist 6 (POR), Alfonso Domingos, 12-10-7-6-8-15-12.50-3-9-10-10, 102.50 points

12. Cristabella (GBR), Roberto Bermúdez de Castro, 13-13-14-10-10-13.75-6.25-10-4-8-5, 107.00 points

13. TAU Andalucía (ESP), José María Torcida, 11-5-8-13-4-16.25-11.25-5-12-14-13, 112.50points

14. Fram XIV (NOR), Kell Arne Myrann, 14-14-13-14-14-17.50-13.75-14-14-13-12, 153.25 points
---
Dans la même rubrique