Jules Verne trophy
Bruno Peyron : "We'll rebuild !... and we'll be off again !"
lundi 18 février 2002 –
Bruno Peyron has left Vannes, leaving repairs to Orange's mast in the hands of the architects and engineers of the Mulitplast boat yard. Casting his thoughts back to the start and the incident which occurred only 30 minutes afterwards, Bruno Peyron commented : " It is difficult to describe what goes through your head when so much positive energy of a group explodes in a matter of seconds. "
A quick reminder of what happened : " We crossed the start line in absolutely perfect conditions : a 25 / 30 knot wind, a perfect angle, a planned gybe 6 hours later with a rotation of the wind east, gliding along nice and smoothly on a long swell from Ushant, in a superb light, calm manoeuvres – so that you can make the most of every instant, a cool crew ready for the take-off... It was 11H 58 and we had just crossed the mythical starting line of the Trophée Jules Verne. Our giant Orange has one reef in the main, staysail up, and the medium gennaker ready and waiting.
Fifteen minutes earlier, sailing upwind in the Hèle channel, we'd thought about leaving with the main unreefed and the big gennaker up. We took the safest option : one reef in the main and the medium gennaker, until we were free of the continental shelf. It meant losing one or two miles over the coming 6 hours, but we knew that this combination would propel us onto the direct course at 30-33 knots. Once we'd finished hoisting manœuvre, I didn't want to attack until everything had been perfectly trimmed, the final adjustments made.
There were just one or two things left to do : tighten the luff, rotate the mast so that it was fully open, adjust the traveller, check the sails weren't chafing, the tension of the lee shrouds, rebalance the daggerboards, the distribution of weight to make sure that the fore-and-aft trim of the boat was at its best… Five or six guys were still on the foredeck and I wanted everyone to have finished before luffing 10 degrees. I wanted everyone to be able to make the most of this symbolic moment : Orange's first "attack" over a starting line. An intense moment. I knew that everyone had understood, the photographer in the helicopter, was aware of that too and was getting ready to see the Orange monster take off in optimal conditions. We were ready to put our foot down to the floor, as we were still holding back a little, even though we were already at 28 knots ! We knew that we had an exceptional weather window and we had just one thing on our mind – the Equator was lying just five and a half days ahead !
What followed is now history. The expected take off did not happen, as in spite of these comfortable conditions, the mast head exploded ! No comment ! We couldn't believe our eyes. We saw red – this was serious !
48 hours after the psychological shock for the crew, there are just four things I would like to say. Bravo to the whole Orange team for having reacted with such amazing pride and determination. Bravo to the Multiplast yard for having been able to mobilise themselves immediately in order to help us out with their expert assistance. Thank you to our partners Orange, France Telecom and Marseille for their moral support in what is a very difficult moment for us all, and which must be every bit as difficult for them also.
To them, to all those who have supported us, through the respect for the energy spent by all since the beginning of this campaign, as long as we have a hint of a solution, no way will we give up !
We'll rebuild !... rebuild our mast, rebuild our minds, our energy ... and we'll be off again ! Team Orange's story is just beginning ! ".
---
Dans la même rubrique
Jules Verne Trophy : Orange breaks her mechanics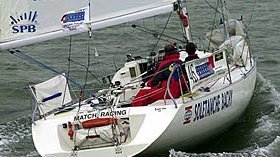 Orange on the starting line. Broken Mast (down). Photos : G.Martin-Raget
Jules Verne Trophy : Bruno Peyron : "We'll also be trying to win the dual with Olivier de Kersauson"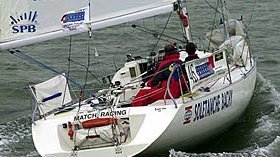 Photo : G.Martin-Raget