Jules Verne Trophy
Orange breaks her mechanics
Mast head did exploded away from Ouessant
jeudi 14 février 2002 – Christophe Guigueno
Orange on the starting line. Broken Mast (down). Photos : G.Martin-Raget
They arrived before midday away from Ouessant island. The wind was blowing at more than 25 knots from north. At 11:58 am, local time, they officially crossed the line and started their race against the watch at 26-27 knots of speed. But only half a hour after, the mast head did exploded.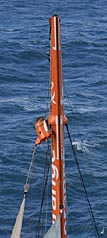 Bruno Peyron immediatly put the sails down and asked one of his crew to climb up to the mast head to verify the damage. If the mast did not fell down, the top is cut less than one meter under the head shroud. (See Gilles Martin-Raget photos).
Now Peyron has decided to sail back to Vannes, in the south of Brittany. He is expected to join this port in the night. He is awaited there by Gilles Ollier and the team of Multiplast shipyard which has built the catamaran and her sister-ship Club Med. If there are able to repair the mast in a short time, may be Peyron could start again his round the world race. Behind Olivier de Kersauson this time.
De Kersauson was refitting his own new wing mast on his giant trimaran this morning when Peyron was leaving the Port du Moulin Blanc where both multihulls were moored. Geronimo, the Van Peteghem Lauriot-Prévost trimaran, did broke her previous mast during sail tests for her own Trophée Jules Verne attempt. Geronimo which was said to start only few days after Orange will now start before...
---
Dans la même rubrique
Jules Verne Trophy : Bruno Peyron : "We'll also be trying to win the dual with Olivier de Kersauson"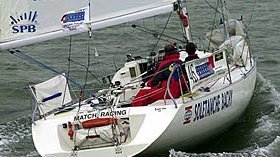 Photo : G.Martin-Raget