Louis Vuitton Act 13
Alinghi dominates last act in Valencia
Brad Butterworth : "they will develop through this Louis Vuitton Cup"
Saturday 7 April 2007 – Information America's Cup
On a day that dawned with torrential downpours and fickle winds, by race time the skies had cleared and the wind soon stabilised to the point where the Race Committee could start the races after only a short delay. On the water, Alinghi continued its dominant performance in Valencia Louis Vuitton Act 13, posting a second place to go with a fourth race victory, to win its fourth consecutive fleet racing Act.
The home team, Desafío Español, pleased the holiday weekend crowds by winning the first race of the day, whilst Shosholoza accomplished its goal for Act 13 – the South Africans finished seventh in Valencia Louis Vuitton Act 13, which was good enough for Shosholoza to overhaul the French Areva Challenge on the Louis Vuitton Ranking, snatching a bonus point. At the top of the Louis Vuitton Ranking, Emirates Team New Zealand's position as top challenger in Act 13 confirmed its place atop the challenger ranking and the four bonus points that go along with it.
There was plenty of action throughout the fleet racing Act, which also marked the debut of the 2007 configuration of Port America's Cup America's Cup #AmericasCup . By the time Saturday's attendance totals are factored in, over 230 000 people will have poured into the Port, including a record Record #sailingrecord of more than 63 000 on Friday. On Saturday evening, the crowd saw Alinghi accept the trophy for Valencia Louis Vuitton Act 13, its eighth Act win in 13 Louis Vuitton Acts.
RACE 6 : At the start, the pin end seemed popular but Team Shosholoza was well over prior to the gun and as they were locked in among the pin-enders the South Africans had trouble rounding back to restart. The big teams pulled out an early lead, heading out to the left, Alinghi on its own having had a relatively peaceful start out at the committee boat end of the line.
Sailing conservatively up the middle of the course, minimising tacks and keeping out of trouble, it was Karol Jablonski at the helm of the Spanish team Desafío Español 2007 who finally nosed ahead about two thirds of the way up the first beat.
The rest of the race was fairly processional with the Spanish showing calm nerves, good boat handling and a flash of downwind speed Speed #speedsailing despite a strong assault from the Swiss defender. Towards the finish Alinghi made a final charge but this was not enough and Desafío Español's ESP 97 got its first gun of Valencia Louis Vuitton Act 13, finishing just seven seconds ahead.
After a strong performance Friday, Luna Rossa found itself on the wrong side of both beats to finish a disappointing eighth. This sets up an exciting final race between Mascalzone Latino-Capitalia and Luna Rossa for top Italian team in Act 13.
RACE 7 : In perhaps the most outstanding demonstration of their exceptional boat speed Speed #speedsailing and crew work, the final race of Valencia Louis Vuitton Act 13 saw Alinghi claim victory – its fourth in this regatta – despite starting almost 40 seconds behind the fleet, after another poor start.
While China Team got off to a strong start, on the first beat it was Desafío Español, still buoyant from its win in the previous race, along with BMW ORACLE Racing and Luna Rossa who were all contending for the lead. By the top mark, it was Larry Ellison's American team who rounded the weather mark in first place followed by the Spanish and Luna Rossa.
But the Umpires judged Desafío Español to have tacked too close to Luna Rossa approaching the top mark. The Spanish were forced to carry out a penalty turn but in the process they passed too close to Areva Challenge and Thierry Peponnet raised his protest flag aboard the French boat. The Umpires then penalised Desafío Español for a second time, pushing them well down the fleet.
Luna Rossa stuck to BMW ORACLE Racing like glue on the first run, allowing Alinghi, now up to third, to remain on its own out to the left. At the leeward gate Alinghi dropped its spinnaker early and came into the mark fast, rounding up sharply and tacking out to the left side, leaving BMW ORACLE and Luna Rossa team to head out to the right. In the latter stages of the beat a short tacking duel took place between BMW ORACLE and Luna Rossa and this combined with a useful shift allowed Alinghi to pull into the lead and Vincenzo Onorato's Latin Rascals able to overtake their Italian rivals on Luna Rossa.
Alinghi rounded the top mark ahead of BMW Oracle by 15 seconds with Mascalzone 16 seconds ahead of Luna Rossa. The final run saw no change of position among the leaders and Alinghi comfortably scored their fourth win by 39 seconds. A third place for Mascalzone Latino secured their third place overall in Valencia Louis Vuitton Act 13, just one point back of Emirates Team New Zealand who placed second overall.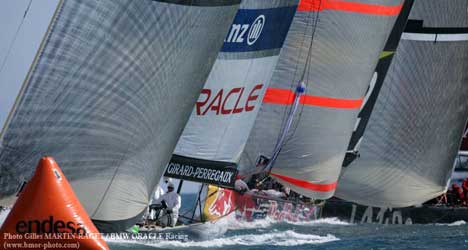 Santiago Lange, traveller Victory Challenge, on SWE 96 and the fleet racing: "We are happy with the boat's performance, and I think we are all very even. In this Act we have struggled with the fleet racing and made mistakes, especially on the first few days. Our team structure is much more focused on match racing. Fleet racing is very different."
Mark Sadler, skipper, Team Shosholoza, on moving up in the points table: "We were a little over eager today and we need to settle the boat down. We were too jumpy to get into the race. But we achieved our goal to move into the two point group for the Louis Vuitton Cup. We've had some disappointing races but we've also learnt a lot"
Vasco Vascotto, skipper, Mascalzone Latino-Capitalia Team sums up the week: "In this Act we sailed really well. We now have to be careful to keep the level up. Tomorrow we will have a day off and during the week we will start our specific preparation for match racing, practicing pre-starts. The Louis Vuitton races will be very tough with a lot more tacks. I think its going to be a hard America's Cup America's Cup #AmericasCup but our guys are well prepared. The stress will disappear and we will start to enjoy it."
James Spithill, helmsman, Luna Rossa Challenge, on the battle for points: "I have absolutely no idea why BMW ORACLE Racing engaged in so many tacks in the second race. I think they wanted to make sure they could hold onto their second place in the Louis Vuitton ranking, although it didn't make any difference to finish second or third for the point bonus. I am not worried about the result in Act 13. I'm sure when the game gets harder we will be ready for the match racing next week."
Matti Paschen, trimmer, United Internet Team Germany, disappointed but determined: "The races today haven't been that good for us. We didn't start very well and it was hard for us to find the right spot. When you are behind it's not so easy to find your way through the fleet upwind. Downwind looked a bit better for us, it seems we have good speed and we can gain a little bit on some teams, but in general it has been quite a tough day for us. Since our accident with +39 we changed our rig to an older one and we seem to have problems with it upwind- we were better off the first days racing here."
Peter Isler, navigator BMW Oracle Racing, on the battle for points: "It was the only time in BMW Oracle Racing's history when we wanted to say to Alinghi, 'go ahead, play through'. When we went around the bottom mark the Challenger series points came down to the last lap of the last race. With us winning, Luna Rossa second, Alinghi third and Mascalzone Latino in fourth, Luna Rossa was beating us in the Challenger selection series. We needed to slow them down, slow down the action in order to move Alinghi forward and get back into second overall".
Ben Ainslie, helmsman, Emirates Team New Zealand: "I think all the teams have had their problems one way or another throughout the week. We've certainly had to scrap and fight hard to get second place. It's been a good warm up and now we're looking forward to the serious racing".
Tanguy Cariou, strategist Areva Challenge, gives constructive criticism: "We can't say that we were unlucky on the first legs. I think we simply sailed badly. We have to find an efficient way of working to perform well and score points right from the beginning of the Round Robins. The boat has real potential. We just have to work to develop and get the most out of it. We don't have much time, but we know we can do better than the ninth place here".
Gilles Andre, bowman, China Team, working up to the Louis Vuitton Cup: "Act 13 was training for us. It has meant we could identify the things we needed to improve. The races are starting to be a lot more compact and manoeuvres more fluent so we have started to be a bit of a nuisance to the others. That is giving us confidence to continue making progress and give our all for the start of Louis Vuitton Cup on 16th April".
Brad Butterworth, tactician, Alinghi, on whether any of the challengers are a threat: "There are two teams that didn't have their second boat and there is some good equipment out there. It is not an easy game to win: we are going to have to sail well and they will develop through this Louis Vuitton Cup. We are going to have to develop outside of it and that is going to be the battle."
Karol Jablonski on their performance in Valencia Louis Vuitton Act 13: "Alinghi sailed well, and they are fast too, but this event wasn't just a test against Alinghi. We are very happy with our performance. Our boat speed is fine. The crew work is fine. It is about learning about the boat and the crew for the Louis Vuitton Cup which is most important for us."
---
Valencia Louis Vuitton Act 13
Team 1 2 3 4 5 6 7 Total

1 Alinghi (SUI 91) 4/9 1/12 1/12 1/12 3/10 2/11 1/12 78

2 Emirates Team New Zealand (NZL 84) 5/8 3/10 4/9 5/8 1/12 3/10 6/7 64

3 Mascalzone Latino-Capitalia (ITA 99) 3/10 6/7 5/8 2/11 4/9 5/8 3/10 63

4 Luna Rossa Challenge (ITA 94) 7/6 5/8 2/11 3/10 2/11 8/5 4/9 60

5 BMW ORACLE Racing (USA 87) 1/12 4/9 7/6 4/9 10/3 6/7 2/11 57

6 Desafío Español 2007 (ESP 97) 8/5 2/11 3/10 9/4 6/7 1/12 7/6 55

7 Team Shosholoza (RSA 83) 2/11 8/5 10/3 7/6 5/8 7/6 9/4 43

8 Victory Challenge (SWE 96) 12/1 11/2 6/7 8/5 7/6 4/9 8/5 35

9 Areva Challenge (FRA 93) 9/4 10/3 8/5 10/3 8/5 10/3 5/8 31

10 United Internet Team Germany (GER 89) 6/7 9/4 DSQ 6/7 9/4 9/4 10/3 29

11 +39 Challenge (ITA 85) 10/3 7/6 5/8 DNS DNS DNS DNS 17

12 China Team (CHN 95) 11/2 12/1 9/4 11/2 11/2 11/2 11/2 15
Provisional Louis Vuitton Ranking
Team Cumulative Ranking Points Ranking Bonus Points

1 Emirates Team New Zealand 158 1 4

2 BMW ORACLE Racing 147 2 3

3 Luna Rossa Challenge 145 3 3

4 Desafío Español 2007 106 4 3

5 Mascalzone Latino-Capitalia 103 5 2

6 Victory Challenge 83 6 2

7 Team Shosholoza 73 7 2

8 Areva Challenge 72 8 1

9 +39 Challenge 66 9 2*

10 United Internet Team Germany 42 10 1

11 China Team (CHN 95) 18 11 1
* Awarded redress by the Jury
---
Also in this section