Four syndicates from four countries will race during the International
America's Cup
America's Cup
#AmericasCup
Regatta, in Auckland, New Zealand starting on Monday and running over the week of 11th - 17th February 2002.
Hosting the event, the America's Cup America's Cup #AmericasCup Defenders Team New Zealand will race against three of the 10 challenger syndicates preparing for the next Louis Vuitton Cup, which starts in October 2002.
The three challenger syndicates racing are from :
America, OneWorld Challenge, representing the Seattle Yacht Club. OneWorld will be skippered by Peter Gilmour and the team will be sailing USA-55 (ex-Stars & Stripes), http://www.oneworldchallenge.com.
Sweden, Victory Challenge, representing the Gamla Stans Yacht Sällskap. The Victory Challenge skipper is Mats Johansson and he will sail the team's brand new boat Örn (SWE-63), http://www.victorychallenge.com.
United Kingdom, GBR Challenge, representing the Royal Ocean Racing Club. Skippered by Ian Walker the syndicate will use Idaten (GBR-52), http://www.gbrchallenge.com.
All three teams will sail against the successful Defender of the last America's Cup America's Cup #AmericasCup , the Royal New Zealand Yacht Squadron's Team New Zealand (NZL-60). The Kiwi boat will be skippered by Dean Barker. This regatta will probably be the last time this famous yacht is used in international competition by Team New Zealand.
Auckland weather has seen North Easterly gales blowing across the Hauraki Gulf race area for the last two days, just ahead of a warm front that is due to pass over the North Island towards the East early on Monday morning. Behind the front lighter North Westerly winds, ideal for racing, are forecast.
The four teams will race a predominantly match race series over reduced length America's Cup type courses (two laps instead of three). There are also two fleet races included in the event, and these count for points in a separate series. The first fleet race will be held on Monday 11th February, over the same course as the match races. The second is on Sunday 18th February, over a course starting in the middle of the Hauraki Gulf, which will take the fleet along the East Coast Bays of the North Shore before running up the Waitemata Harbour, to finish under one of the city's best known landmarks, the Auckland Harbour Bridge.
The match race series will begin after Monday's fleet race. It is intended to run two Round Robins, where each of the four teams meets each of the others twice, before the top two boats on points race in a best of three finals and the bottom two boats race a one race "Petit-Final".
---
Dans la même rubrique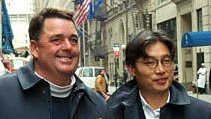 Dennis Conner (left) and Nautica's David Chu greet the press in front of the New York Yacht Club in New York City, where Team Dennis Conner unveiled its 79-foot America's Cup challenger Stars & Stripes.