ISAF Rolex World Sailor of the Year Awards
Mike Sanderson and Paige Railey top sailing greats
Winning skipper of the Volvo Ocean Race and Laser Radial Champion awarded
mercredi 8 novembre 2006 – Redaction SSS [Source RP]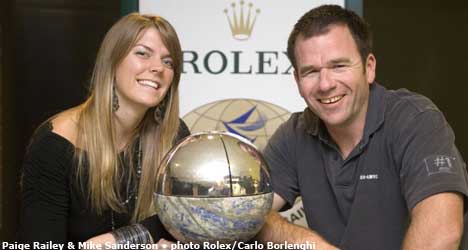 The International Sailing Federation and Rolex have announced Laser Radial Champion Paige Railey (USA) and Mike Sanderson (NZL), winning skipper of the
Volvo Ocean Race
Volvo Ocean Race
#VolvoOceanRace
, as winners of the ISAF Rolex World Sailor of the Year Awards 2006.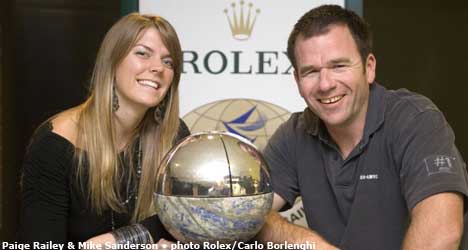 At an Awards Ceremony tonight in Helsinki, Railey and Sanderson were honoured for their outstanding sailing achievements between 1 September 2005 and 31 August 2006, when Railey won a number of major international regattas in the Laser Radial, and Sanderson led TEAM ABN AMRO to a dominant victory in the Volvo Ocean Race Volvo Ocean Race #VolvoOceanRace .
This is the second consecutive year that Paige Railey from Florida has been nominated for the female ISAF Rolex World Sailor of the Year Award. Last year Ellen Macarthur (GBR) pipped her to the title, but still only aged 19, it would be no surprise to see Railey nominated again in the coming years. Since the Laser Radial was selected two years ago as the new equipment for the Women's One Person Dinghy Olympic event, Railey has proven herself as the sailor to beat.
With no prior experience of Olympic level sailing, the teenager's meteoric rise to the top of the sport has shocked Railey more than anyone. But her lack of experience has proven no barrier to success as she has moved seamlessly from the top of the youth sailing world to the top of the sport at senior level. Towards the end of the 2005 season Railey won the Volvo Youth Sailing ISAF World Championship in Korea and then a few weeks later went on to win the Laser Radial World Championships in Brazil.
Railey opened the 2006 season with victories at the French Olympic Sailing Week and the ISAF World Sailing Games in Austria, although she struggled during the summer at the European and World Championships with some below par performances. However in August she bounced back in fine style, to win a challenging Olympic Test Regatta in Qingdao, the venue for the Olympic Sailing Competition in 2008.
Paige Railey : "This comes as a shock, I didn't really think I had the chance to win. I was really excited just to be nominated again. So to win it, I can't tell you how excited I am. It has been an amazing year. Winning the World Championship in Brazil last year, I really didn't expect to win that regatta. It was my first World Championship at senior level, and when I first got into Olympic sailing I was really stressed about being immersed in that scene. I was told I'd have to work my way up from the bottom, so to get in at the top was a real surprise. This year winning the Olympic Test Regatta in Qingdao was a real high point. I was just coming out of a slump, and then I had a really good event in China.
"I'd like to thank my family and my coach, Kaj Glinkiewicz, because they're pretty much the backbone for my sailing campaign. And thanks to my training partner Ben Paton and to my federation, US SAILING, for all the excellent work they're doing on behalf of sailors like me."
Few teams have dominated a round-the-world race quite like Mike Sanderson's team on ABN AMRO ONE in the Volvo Ocean Race Volvo Ocean Race #VolvoOceanRace 2005-06. Sanderson brought an understated yet authoritative leadership to the campaign, as the team spent the best part of a year learning how to tame and master the frighteningly quick Volvo Open 70 design that was introduced for this race. Sanderson's team not only came up with the fastest boat, but they knew how to sail the Volvo Open 70 better than anyone. Over eight months and 31,500 hard miles around the planet, ABN AMRO ONE won all but three of the nine offshore legs and all but two of seven In Port races.
Mike Sanderson : "I'm unbelievably honoured. These awards are something I've always followed with great interest, and to follow in the footsteps of names like Russell Coutts is amazing. I don't consider myself to be in the same league, but for people to nominate me for this is a great honour.
To lead a team like ABN AMRO ONE was a dream come true. For all 12 of us who sailed on the boat, including the two guys who joined us for the In Port races, this is a very special award. We had a really special relationship, we had a great team, we got on well, and we loved doing what we were doing. The fact that we've been honoured here by the world of sailing is very cool."
The winners were each presented with a Rolex timepiece and the marble and silver World Sailor Trophy - a solid marble sphere depicting the world and crowned by five silver spinnakers representing the continents.
The renowned sailor, yachting journalist and Rolex Ambassador Gary Jobson hosted the Awards Presentation, which was attended by more than 400 hundred guests from 45 nations, including international sailors and prominent personalities from the sailing world. Presenting the Awards were ISAF President of Honour HM King Constantine and Arnaud Boetsch of Rolex.
The other nominees for the ISAF Rolex World Sailor of the Year Awards 2006 were :
Female

Mónica AZÓN CANALDA, Sandra AZÓN CANALDA and Graciela PISONERO CASTRO (ESP)

Dee CAFFARI (GBR)

Dorte JENSEN (DEN)

Helena LUCAS (GBR)

Daida MORENO (ESP)
Male

Peter GILMOUR (AUS)

Sébastien JOSSE (FRA)

Yves PARLIER (FRA)

Bruno PEYRON (FRA)
Press info KEY PARTNERS
---
Voir en ligne : Web sailing.org/worldsailor
---
Dans la même rubrique