Maxi Yacht Rolex Cup
Neville Crichton wins the Racing division
Hetairos, Alfa Romeo, Magic Carpet Squared, Atalanta II and Roma win in their respective divisions
samedi 9 septembre 2006 – Redaction SSS [Source RP]
Toutes les versions de cet article : [English] [français]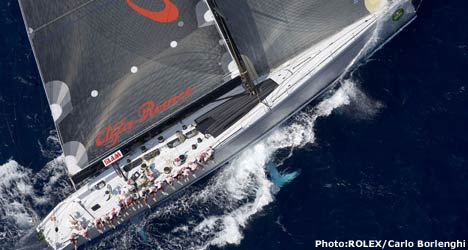 The fifth and final day of racing in the Maxi Yacht Rolex Cup, organized by the Yacht Club Costa Smeralda, brought sunshine and slightly stronger breezes which accompanied the 46 competing maxi yachts on courses off the Costa Smeralda. Today brought to an end a week of light winds which made racing technical and demanding for these giants of the sailing world.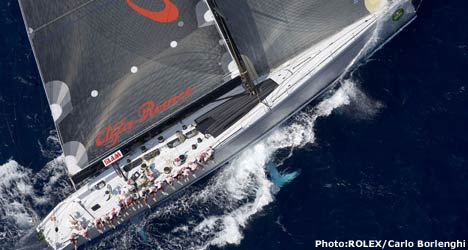 The Spirit of Tradition class saw the Cayman Isand's Hetairos, with three firsts in five races, take first place overall. C.E. Van Asbeck's Annagine (Ned) and George Lindemann's Adela (Usa). The Racing division, which had seen hard-fought battles between Neville Crichton's Alfa Romeo (Nzl) and Bob Oatley's Wild Oats (Aus) with Wild Oats tending to take line honours while Alfa Romeo took handicap honours, saw New Zealand's Alfa Romeo take the overall victory five points ahead of Hasso Plattner's Morning Glory (Ger) in second place and Wild Oats in third. Commenting after today's race owner Nevile Crichton said : "We got a second on handicap and we're quite happy about that. We had already won the series, but it would have been nice to get another line honours win and that's what we were going for today. It's been a fantastic week of sailing, there have been enjoyable competitors and this is the best sailing in the world in my book."
Sir Lindsay Owen Jones' Magic Carpet Squared (Gbr) took overall victory among the Wallys with a series of first and second place finishes throughout the week marred only by one fourth place which they were able to discard today to leave the British boat with a clear lead over Monaco's Dark Shadow and Carlo Sama's Tango. Pirelli Re CEO Carlo Puri Negri claimed the top spot overall among the Mini Maxis with a six point lead over Ernesto Gismondi's Edimetra. Massimo Violati's Ops 5 came in third.Roma, owned by Filippo Faruffini held on to her lead in the Cruising division to take first place overall just one point ahead of the UK's J Class Velsheda. Last year's overall cruising winner Allsmoke, owned by Gunter Herz took third.
The Race Committee once again selected varied courses for the participating divisions taking into account the prevailing north-easterly breezes blowing at around 10-12 knots. The Spirit of Tradition boats sailed a 23 mile course which took them from the start just off Porto Cervo past Capo Ferro and on to the Gulf of Saline before heading upwind to round the Monaci islands an then heading for home and the finish line at the mouth of Porto Cervo Marina. Hetairos crossed the finish line first, followed by Adela with Aschanti very far back in third, these positions held in corrected time.
The remaining classes, Racing, Wally and Mini Maxi completed a windward-leeward course of approximately 12.5 nautical miles today. In this sixth and final race for the Racing division the fleet was closely grouped with Wild Oats, Alfa Romeo and Morning Glory crossing the finish line within minutes of each other, in that order. Morning Glory moved up to first place on corrected time with Alfa Romeo and Wild Oats in second and third respectively.
Among the Wallys Magic Carpet Squared completed an unbroken run of line honours victories and also took handicap honours in today's windward-leeward ahead of Tiketitan and J One.
In the Mini-Maxi division, which is competing in the Maxi Yacht Rolex Cup for the first time, Atalanta II crossed the finish line first leaving her too with an unbroken run of firsts in real time. Atalanta II held onto first on corrected time ahead of Aleph while the USA's Chippewa came in third to take her best placing in the event.
The Cruising Class sailed a course of approximately 26 nautical miles setting off from the same start line and heading north to round the Monaci islands and completing a downwind stretch to the Secca Tre Monti before heading back along the coast, past Porto Cervo and down to round Mortoriotto Island prior to crossing the finish line off Porto Cervo. Arne Glimcher's Ghost finished first in real time and retained her lead on handicap. Roma and Velsheda followed respectively.
Info YCCS Press Office
---
Voir en ligne : Full results and details of the Maxi Yacht Rolex Cup are available on www.yccsmaxi.com.
---
Classement général
Racing

1. ALFA ROMEO Neville Crichton NZL, 1/1/1/2/1/(2)/6.0

2. MORNING GLORY Hasso Platner GER, 3/2/2/3/(3)/1/11.0

3. WILD OATS XI Robert I. Oatley AUS, 2/(4)/3/1/2/3/11.0
VOR

1. ABN AMRO ONE ABN Amro Brand NED, 1/1/1/1/1/(1)/5.0

2. AMER SPORT TOO Giovanni Marangon EUR, 2/2/2/2/2/(2)/10.0
Cruising

1. ROMA Filippo Faruffini ITA, 2/1/1/(3)/2/6.0

2. VELSHEDA Tarbat Investments GBR, 1/2/(4)/1/3/7.0

3. ALLSMOKE Gunter Herz GER, 3/3/3/2/(4)/11.0
Spirit of Tradition

1. HETAIROS Rockport Ltd CAY IS, 1/2/1/(3)/1/5.0

2. ANNAGINE C. E. Van Asbeck NED, 2/1/3/2/(5(RET))/8.0

3. ADELA George Lindemann USA, 3/3/2/(4)/2/10.0
Mini Maxi

1. ATALANTA II Carlo Puri Negri ITA, (4)/3/1/3/1/8.0

2. EDIMETRA Ernesto Gismondi ITA, 3/6/(6)/1/4/14.0

3. OPS 5 Massimo Violati ITA 2/5/5/4/(5)/16.0
Wally

1. MAGIC CARPET SQUARED Lindsay Owen Jones GBR, 2/1/(4)/1/2/1/7.0

2. DARK SHADOW Antexis Ltd MON, (5)/3/1/4.50/1/4/13.50

3. TANGO Carlo Sama MON, 3/2/2/2/5/(7)/14.0
---
Dans la même rubrique