America's Cup
Brèves de Cup : Histoires d'A…
• Anomalie • Argent • Amour • Areva • Accident
Thursday 7 February 2002 – Christophe Guigueno
Toutes les semaines, les chroniques du monde impitoyable de la Coupe de l'America…
• Histoire Histoire #histoire d'Anomalie : Alinghi cherche et trouve
"Le Team Alinghi a effectivement découvert une anomalie dans le règlement de la Coupe. Une anomalie qui pourrait permettre à un concurrent de remporter toutes ses régates avec une avance conséquente." Bernard Schopfer n'y va pas par quatre chemin pour annoncer la découverte du défi Suisse d'Ernesto Bertarelli.
Cet hiver, Hamish Ross, membre du Team Alinghi et grand spécialiste des règles de la Coupe de l'America a constaté que ce texte comprenait le passage suivant :
"Centre-board or sliding keel vessels shall always be allowed to compete in any race for this Cup, and no restriction or limitation whatever shall be placed upon the use of such centre-board or sliding keel, nor shall the centre-board or sliding keel be considered part of the vessel for any purposes of measurement."
TRADUCTION : "Les bateaux à dérives ou à quilles rétractables seront toujours autorisés à concourir dans n'importe quelle course de la Coupe, et aucune restriction ou limitation qu'elle quelle soit ne pourra être imposée concernant leur utilisation. De plus, ces dérives ou ces quilles rétractables ne pourront en aucun cas être considérées comme faisant partie de ces bateaux pour les besoins de la jauge".
Le Team Alinghi qui a déniché ce trou dans la jauge demande donc au Panel d'arbitrage de la Cup d'intervenir au plus vite. Le but des Suisses, fair-play, est d'annuler cette règle des America's Cup America's Cup #AmericasCup Class Rules Rules #irc #ims , version 4.0, datées du 19 Octobre 2000. Ceci dans le but de "garantir une compétition saine, basée sur des règles identiques pour tous".
Dans le cas contraire, un voilier pourrait respecter la jauge et posséder des appendices mobiles qui bouleverseraient ses performances et ramèneraient les ailettes d'Australia II au rang de petite innovation.
Source : Alinghi
• Histoire Histoire #histoire d'Argent : illbruck qui rit, illbruck qui pleure
Le défi allemand pour la Coupe de l'America 2003 est aussi le défi allemand engagé dans la Volvo Ocean Race. Mené par John Kostecki, le Volvo 60 a remporté les deux premières étapes de la course autour du monde en escale. Il est en tête du classement général provisoire par points après trois étapes. Il est en tête de la quatrième étape en route vers le Cap Horn. illbruck rit.
Alors que les autres challengers naviguent en Class America, les Allemands ont préféré une stratégie en deux temps. Pendant que leurs navigateurs dominent la Volvo Ocean Race, ils font construire un Class America en vue de la Cup. Jusque là, tout allait bien. Mais Michael Illbruck, le patron du défi qui finance ses projets à hauteur de 90%, est intervenu pour se lamenter sur l'état de ses finances. S'il ne trouve pas des partenaires pour venir en aide à son défi, sa participation pour la Cup 2003 pourrait être reportée à 2006… dead line: le premier avril. illbruck pleure.
• Histoire d'Amour : un 69 pour les Français
Les Allemands avaient pris le 68. Ouf! Les Anglais sont passés directement au 70! My god! Les Français n'ont pas failli à leur réputation et ont récupéré le 69 laissé vaquant.
Un choix qui ne surprend pas les anglo-saxons. Les Français peuvent tout se permettre, surtout quand cela se passe en dessous de la ceinture.
L'histoire d'amour entre les Français et la Cup avait commencé dans les années 70 avec les France I, II et III du baron Bic. Le premier contact sérieux, c'est Marc Pajot qui l'a réussi en mêlant un sulfureux French Kiss à la campagne de 1987. Depuis, les hauts et les bas se sont succédés dans le couple qui n'arrive pas à concrétiser son union. Les hommes du Défi Français pour la Coupe de l'America 2003 sont donc parvenus à passer un cap évocateur. En plein méli-mélo politico incorrect, les Français ont terminé leur phase d'approche et précisent, à qui veut bien le voir, leurs intentions futures. Mais faudra-t-il encore que ces déclarations d'amour n'aient pas effrayé la belle et que celle-ci leur laisse les portes grandes ouvertes en octobre prochain…
• Histoire d'Areva. Ah ça rêva, ça rêva, ça rêva!
Sortir du Nucléaire, Greenpeace, l'Union démocratique de Bretagne et les Verts manifestent aujourd'hui devant le chantier naval Multiplast qui construit le Class America français qui portera les couleur du groupe nucléaire Areva.
Christian Guyonvarc'h de la mairie de Lorient Lorient L'actualité du port de Lorient et de sa région. a écrit au New Zealand Herald Tribune : "Nous ne sommes pas opposés au Défi Français pour la Coupe de l'America en Nouvelle Zélande. Nous refusons par contre que le lobby nucléaire français kidnappe cet compétition de voile car il est clair qu'Areva compte sur la Coupe pour faire un grand coup publicitaire… Il est important de laisser la mer et la Coupe de l'America saines et libres."
Le New Zealand ajoute que Greenpeace organisera aussi des protestations à Auckland quand le bateau français, surnommé 'Atomic Warrior', rejoindra ces "eaux libres et antinucléaires".
• Histoire d'Accident : Aïe!
Mark Strube, un équipier du défi américain OneWorld s'est fait arracher l'extrémité de son petit doigt lors d'une sortie sur le Class America. L'embraqueur s'est retenu à l'écoute de grand voile sur la bôme quand son doigt s'est fait happer par le taquet coinceur. Hélas, il n'a pas été possible de récupérer le morceau pour le greffer. Mais le solide équipier compte venir vite reprendre sa place à bord.
Source : New Zealand Herald Tribune
---
Also in this section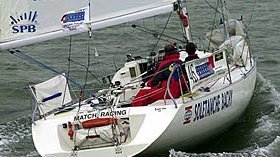 De gauche à droite: Pierre Mas, Jean-Pierre Champion (président de la FFV), Jacques-Emmanuel Saulnier (Areva), Xavier de Lesquen et Pascal Hérold. Photo: Ch.Guigueno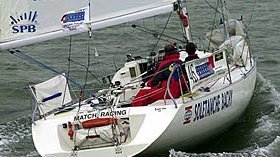 Le Dir Com du Groupe Areva présente son entreprise lors de la conférence de presse. Photo: Ch.Guigueno