Volvo Ocean Race
Sébastien Josse : "Quand le bateau va à 20 nœuds, on est scotchés !"
Nouveau record des 24h en monocoque pour ABN AMRO ONE avec 546 milles
Monday 28 November 2005 – Redaction SSS [Source RP]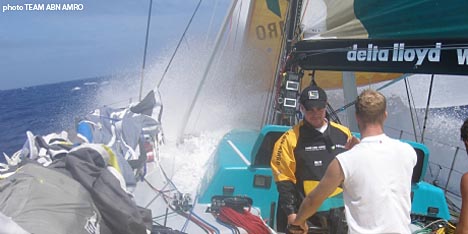 Cette fois, avec 546 milles (22.75 nœuds), ABN AMRO ONE bat son propre
record
Record
#sailingrecord
de vitesse en 24h et celui, absolu, détenu par Movistar depuis Avril dernier. Les conditions de vent n'étaient pourtant pas particulièrement violentes. 24 nœuds établis dans une mer un peu agitée. Ce
record
Record
#sailingrecord
, qui risque de ne pas tenir très longtemps, n'est pour l'instant par encore homologué par les WSRC. ABN AMRO TWO, qui ne voulait sans doute pas rester en reste vis à vis de son grand frère a battu également le record de Movistar, avec 533 milles. Une performance largement due à l'enthousiasme et à la maestria de son jeune équipage (ils ont tous moins de 31 ans), qui navigue sur un VO 70 première génération, un peu moins puissant que son grand frère ABN AMRO ONE, mis à l'eau en juillet dernier et qui a bénéficié de tous les enseignements du premier bateau, mis à l'eau 6 mois plus tôt. Interview de Sébastien Josse...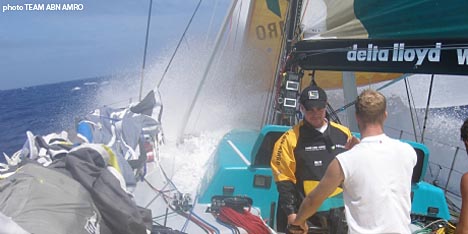 Quelles sont vos conditions actuelles de navigation ?
Nous avons 25 nœuds de Nord Est et nous filons à 20 - 21 nœuds, plein vent arrière. Mais avec l'approche du front, t le vent qui va virer au Sud- Ouest, nous allons empanner cette nuit et faire cap à l'est. Les conditions se sont un peu calmées. Aujourd'hui, c'est une journée presque de repos par rapport à hier où nous en avons pris des paquets de mer pendant presque 24 heures. D'où les nouveaux records qui sont tombés. Ceci dit, même dans les conditions un peu Rock and Roll d'hier, nous ne sommes jamais sentis en danger. En fait, de temps en temps on enfourne, et on prend dans paquets de mer dans la figure, mais on s'habitue. Et quand le bateau va « seulement » à 20 nœuds, on trouve qu'on est scotchés ! On n'a pas mis de casques, comme sur ABN AMRO ONE, car nous en avons perdu un dès le départ. Mais, on en prendra pour les étapes du Sud, car c'est vraiment un confort et une sécurité pour naviguer dans ces conditions extrêmes.
Et l'ambiance à bord ?
Toujours au top. Nous sommes portés par les résultats et par le fait d'être vraiment dans le match. Nous sommes un peu fatigués aujourd'hui après la journée d'hier, mais les garçons récupèrent vite. Tout le monde est aux taquets tout en restant très vigilants et en rigolant tout le temps. C'est un super équipage, hyper motivé.
Voyez-vous toujours Brasil 1 et Ericsson ?
Non. Nous les avons perdus de vue depuis un moment. Ils sont trop loin ! Brasil 1 a pris un pari un peu risqué en faisant de l'Est un peu trop tôt. Pareil pour Ericsson. Ceci dit, leur choix a peut-être été dicté par des raisons techniques. Je ne sais pas.
Comment gérez-vous la différence de puissance entre ABN AMRO ONE et ABN AMRO TWO ?
C'est vrai que quand on regarde les différents relevés de position, ABN AMRO ONE est 2 ou 3/10 plus rapide que ABN AMRO TWO. Il n'y a rien à faire. C'est normal car notre bateau, mis à l'eau en janvier, dernier a servi de bateau laboratoire pour parfaire le second bateau de notre Team. Sur ABN AMRO ONE de nombreuses idées expérimentées sur ABN AMRO TWO ont été optimisées. Donc pour palier à ce petit déficit de vitesse, nous essayons d'anticiper nos stratégies et nos manœuvres. Cela nous force à réfléchir.
Comment prenez-vous vos décisions stratégiques et de manœuvres ?
Toutes les décisions sont prises par Simon Fisher (le navigateur - Si-Fi) et par moi. Nous travaillons ensemble nos plans de route selon les infos météo. Mais ce n'est pas difficile car nous sommes toujours d'accord. Après on l'explique aux chefs de quart (Nick Bice et Scott Beavis. Pour les changements de voile, ce n'est pas le chef de quart qui décide, c'est soi Simon, soit moi. Parce que c'et nous qui savons s'il faut choisir une voile qui permet d'abattre un peu plus ou qui permet de lofer un peu plus. Si-Fi et moi, on essaie d'anticiper nos changements de voile à 3 ou 4 jours. Les chefs de quart et les équipiers sont vraiment les exécutants. Sauf pour une prise de ris ou quelque chose qui attrait à la sécurité du bateau où là, c'est eux qui décident, quand il y a quelque chose qu'on a vraiment pas réussi à prévoir, le chef de quart qui est sur le pont vient nous voir pour discuter d'un changement de voile éventuel.
• Record Record #sailingrecord de vitesse/24h de la course
ABN AMRO ONE : 546 milles (à 22.75 nœuds) - dernier relevé

ABN AMRO TWO : 533 milles (22.21 nœuds)
• Dernières positions - ce lundi 28 novembre - 17 h Paris
1 ABN AMRO ONE 1147 de Cape Town

2 ABN AMRO TWO + 83

3 Brasil 1+ 209

4 Ericsson Racing Team + 249

5 Sunergy and Friends + 1533

6 movistar
---
View online : InfoAnne Massot / www.abnamro.com/team
---
En direct d'ABN AMRO, ce matin - par Sidney Gavignet
« Ouf ! Nous pouvons maintenant décompresser, le record est dans la poche, 22,75 nœuds pendant 24 heures ! Le plus impressionnant fut sans aucun doute à l'intérieur du bateau, étonnant que tout soit encore assemblé. Nous avions vraiment la sensation que ABN AMRO ONE pouvait se disloquer à chaque instant. Pas une sortie de route intempestive, le train est resté sur ses rails. Fatiguant pour le bateau, fatiguant pour les bonhommes aussi, même si petit à petit on s'habitue aux sifflements de la quille et aux craquements de carbone.
Derrière, les jeunes n'ont pas démérité. A bord, on les appelle maintenant "les kids". Ils nous ont même un peu agacés, car nous ne parvenions à leur prendre que 3 ou 4 milles toutes les 6 heures, tandis que nous distancions Brazil 1 et Ericson de plus de 15 milles. Les jeunes ont eux aussi battu l'ancien record détenu par Movistar (qui doit en ce moment être acheminé par cargo vers Cape Town suite à leurs avarie de début de course).
Nous pensons à tous les gens à terre qui sont associer à ce record : Ben Whyte et Neil Cox responsables de la préparation des bateaux, à Roy Heiner qui a pris le risque en début de projet de s'adresser à un architecte autre que Bruce Farr (qui jusqu'ici régnait sans partage et sans faute sur la course autour du monde en équipage), et donc bien sûr à Juan Kouyoumdjian, le jeune architecte des bateaux. Une pensée spéciale aussi pour ABN AMRO et tous les employés à qui nous devions prouver après notre difficile entrée en course sur le parcours "inshore" (dernier !), que nous étions à la hauteur.
Pour Moose, Brad, Jan et moi, c'est une satisfaction particulière de récupérer ce record que nous détenions avec Mari Cha IV avant de nous le faire subtiliser par un adversaire de la Volvo (Movistar), il faut avouer que cela nous était resté en travers du gosier ! Voilà pour le record, mais le plus important est de gagner l'étape. Nous sommes sur la bonne voie, et la météo ne semble pas nous être défavorable.
Nous veillons maintenant à progresser en ménageant la monture. Si tout va bien, arrivée prévue le 1 décembre. A bientôt. » Sidney Gavignet
---
Also in this section