GBR Challenge
Gordon Moultrie joins GBR Challenge as Team Principal
Peter Harrison : "Gordon's appointment comes at a crucial time for GBR Challenge team"
lundi 5 avril 2004 – Redaction SSS [Source RP]
Gordon Moultrie has joined GBR Challenge as Team Principal. Moultrie's role will be to run GBR Challenge team business on a day-to-day basis and spearhead the team's business development activities. He will report to Founder and Chairman, Peter Harrison.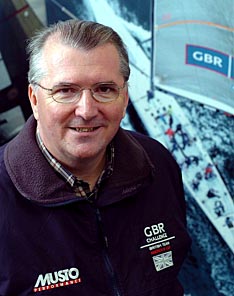 "Gordon's appointment comes at a crucial time for GBR Challenge team. We are totally committed to mounting a successful challenge for the America's Cup America's Cup #AmericasCup and providing commercial opportunities to sponsors. Gordon's extensive knowledge of strategic business development and marketing with some of the world's leading businesses will give us an edge in building a solid foundation in a very competitive market. We already have an aggressive set of business and sailing programmes underway and I have the utmost confidence in the team making these happen and thereby giving GBR Challenge team the best possible platform to compete successfully in Valencia in 2007," stated Peter Harrison.
Moultrie joins a skilled team of professionals that has been 'continuously active' since its return from New Zealand in 2003. The restructured team currently has twenty-five team members ; a rigorous programme of tank-testing, rig and sail development and will begin its sailing programme in June this year, following modifications to GBR70.
Moultrie has had a substantial career at senior level in international management, marketing, brand and communications in media and manufacturing industry leaders and in IT product and services companies the latter leading to the creation of the unique brand-marketing programme - EDS Atlantic Challenge.
"I followed GBR Challenge's 01-03 campaign with great interest. The 04-07 GBR Challenge has moved forward in many ways building on lessons learnt and experience gained. I am impressed by the thoroughness of the plans already in place and by the dedication shown by everyone on the team to achieving the goals of winning on the water and delivering value off the water. Building on those plans and firmly establishing those business relationships are the next critical steps the team has to take," commented Moultrie.
Info Vicky Low
---
• Moultrie Background Biography
Gordon J Moultrie has a substantial career at senior level in international marketing, brand and communications. He has provided strategic leadership and worldwide operational management in leading industrial, technology and service businesses in the UK, Europe (Geneva) and the USA (Boston).
He worked in the IT sector for more than twenty years at industry leaders Computervision Inc, Digital Equipment Corporation, and Electronic Data Systems before establishing his own business development firm, PracticalWorks Limited. Prior to that, he worked for engineering and media industry leaders BOC Limited, Westland Helicopters, and Ogilvy Benson & Mather. His work for these companies has included the development and management of Arts and Sports sponsorship programmes including sailing, where his work with Sir Chay Blyth at Challenge Business led to the creation the EDS Atlantic Challenge.
His broad-based experience encompasses a wide range of business functions including marketing and business strategy development and planning ; implementation of marketing, brand and communications plans including internal and government relations activities ; social policy development ; executive mentoring and coaching ; and the creation and management of effective, high-performance teams.
Gordon has a particular experience in managing change and building organizations based on a networked, flexible team approach. He has a well-established and proven track record in providing operational business leadership and relationship management at all levels, worldwide. He has also played a critical role with business managers and investors in major acquisition and divestments.
Gordon was educated in Scotland and is a member of the Institute of Directors. He enjoys rugby, sailing, choral music, and writing. He now lives in Oxfordshire with his wife and two daughters
---
Dans la même rubrique