SEASAILSURFER OF THE MONTH
Zinédine Zidane SeaSailSurfer of April 2003
For his support for the candidature of Marseilles for the America's Cup
mercredi 30 avril 2003 – Christophe Guigueno
the SeaSailSurfer of April 2003 is a... footballer ! But not of least. The best player of foot of France gave his support for the candidature of Marseilles for the organization of next
America's Cup
America's Cup
#AmericasCup
. He shows an example thus that we follow all !
People from Marseilles are making large efforts to show to Swiss people they will be able to organize XXXIIth America's Cup America's Cup #AmericasCup . Many regional to national personalities support them. Zinédine Zidane, the footballer from Marseilles who plays in the club of Real of Madrid belonged to these, just like Florence Arthaud and Jean-Pierre Champion, the president of the French Sailing Federation...
SeaSailSurf.com of course supports the candidature of Marseilles for the organization of the Cup and invites you to make some as much by adding your signature to the petition of support open on the site of the town of Marseilles : http://coupedelamerica.mairie-marse....
• Marseilles takes up the challenge of the candidature for the America's Cup America's Cup #AmericasCup
Does Marseilles has its chances ? After a first selection, the Swiss have retained eight cities where Marseilles is the only French port. To prove that the Mediterranean city is able to organize this exceptional international event, the Marseilles people reviewed their advantages (information from the official site) :
The constancy of the wind

The analysis of Weather France makes it possible to highlight which the weather data answer the conditions of regattas.
Sporting qualities

With one of most beautiful bays of the world, Marseilles is a privileged appointment of the sportsmen of the sea. The activities of the nautical companies rest on a long experiment of the organization of regattas at the local, national and international level.
Infrastructures of reception

Two technical bases are proposed : the site of Estaque, with a peninsula of 11 hectares in northern end of the commercial basins of the Port authority, immediately available and near the ground and water levels, full with J4, with the entry of the Vieux-Port, which constitutes an interface, of 5 hectares and 70 meters linear, between the event, historical downtown area of Marseilles and the Euroméditerranée project.
Tourist interest and the attractivity of the site

The exceptional diversity of the landscapes and natural spaces, the sea in the centre town, the market of housing in full rise, the intense cultural life, the sunning and the natural light... make of Marseilles an accessible city par excellence.
---
Dans la même rubrique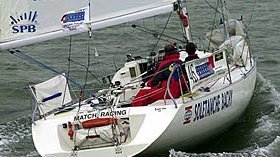 Photo : G.Martin-Raget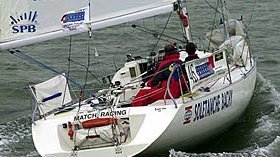 Photo : F.Mousis