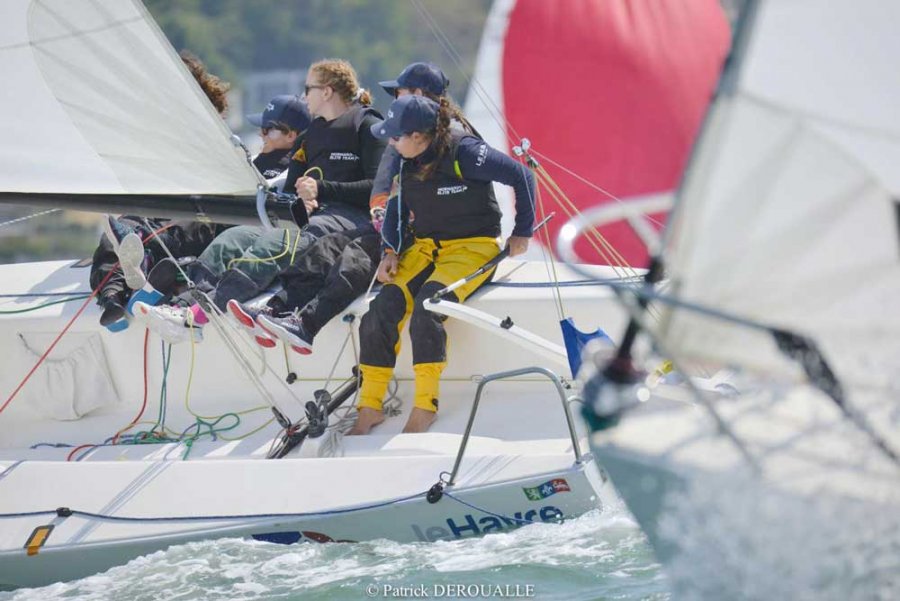 One design racing
Womens Match Racing Tour 2023: Pauline Courtois won the Normandie Match Cup
Tuesday 30 May 2023 – Redaction SSS [Source RP]
French female match racer Pauline Courtois and her Match in Pink Normandy Elite team proved unstoppable yesterday as they defended their Normandie Match Cup title in Le Havre, France, Stage 3 of the 2023 Women's
World Match Racing Tour
World Match Racing Tour
#WMRT
.
Courtois and her regular crew of Louise Acker, Clara Bayo, Théa Khleif and Maëlenn Lemaitre defeated New Zealand's 2.0 Racing Team skippered by Megan Thomson 3-0 in the first to three points final. Fellow Kiwi team EDGE Womens Match skippered by Celia Willison joined the podium in 3rd place after an action packed petit-final against Sweden's WINGS Team skippered by Anna Östling.
It was not an easy day for the four teams competing in the petit-final and final, as well as the last race of the 'Queen of the Castle' stage to decide the final 5th to 11th placings.
After a spectacular previous day undefeated in the 'Queen of the Castle' stage and climbing from 10th to 6th place, Otter Racing (skipper Sophie Otter) were unable to clinch their last win against Team Out of the Box (skipper Julia Aartsen) and settled with the 6th place overall with Aartsen and crew taking 5th place.
"We had a great day yesterday for sure" added Otter. "It was good to consolidate all our learnings from the round robin and then piece everything together to climb the Queen of the Castle ladder."
In the petit-final between Östling and Willison, it was all-action as Östling and crew took the first win in the first-to-three points match, only for Willison to level the score at 1-1. Willison then won the third race and Östling levelled back at 2-2 with a decider for the match.
The Swedish team crossed the line to go 3-2 but were deducted a point for damage caused by a collision earlier in the race.
After a boat switch, both teams re-sailed the decider match but this time the tables were turned and it was Willison and her EDGE Womens Match crew of Rebecca Coles, Ruby Scholten, Alison Kent, Laurane Mettraux that took the win to finish 3-2 and secure their podium finish in 3rd place.
---
Press info www.womenswmrt.com
---
Also in this section