GKA Kite World Tour
GKA Freestyle-Kite World Cup : Mikaili Sol and Carlos Mario are back on top in Colombia
lundi 6 mars 2023 – Redaction SSS [Source RP]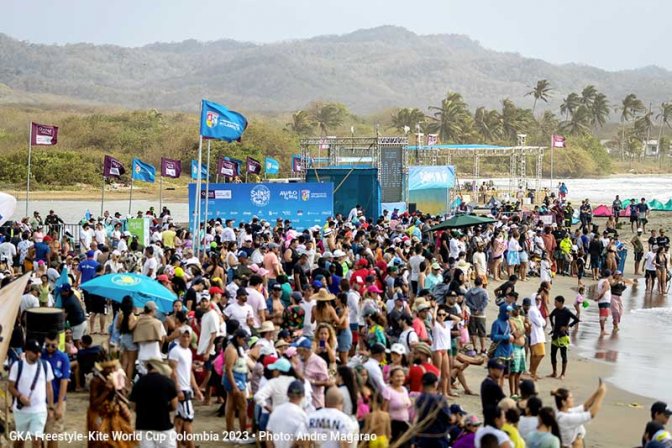 The eagerly anticipated final rounds of the competition drew in crowds who packed the beach buzzing with excitement to see the GKA Freestyle-Kite World Cup Colombia 2023 grand finale.
Capitalizing on the punchy conditions, Mikaili Sol put on a dazzling display of power, experience, and technical brilliance in the women's final, ultimately taking home the event win.
Claudia Leon secured second place with her impressive scorecard, featuring a variety of snazzy combinations. Nathalie Lambrecht also delivered a textbook 315, but a missed landing on a Slim Chance 5 attempt resulted in a third-place finish. Despite dominating in the semi-finals, Bruna Kajiya was forced to settle for fourth place, as she struggled to successfully land most of her tricks and butt-checked the required one.
In the men's final, every rider brought their A-game, delivering high bar-setting tricks. Manoel Soares opened the final with a bang in front of the enthralled crowd, while Gianmaria Coccoluto executed precise tricks that delighted spectators.
However, it was Maxime Chabloz who stole the show, impressing the judges with his style, variety, and flare. His massive Back Mobe 7 scored 8.23, earning him a well-deserved second place finish.
Ultimately, Carlos Mario emerged victorious, showcasing his tricks move-for-move and demonstrating why he's a force to be reckoned with in the competition, and claiming his first win of the season.
WOMEN :
Mikaili Sol (USA)
Claudia Leon (ESP)
Nathalie Lambrecht (SWE)
Bruna Kajiya (BRA)
MEN :
Carlos Mario (BRA)
Maxime Chabloz (CHE)
Gianmaria Coccoluto (ITA)
Manuel Soares (BRA)
---
Press info www.gkakiteworldtour.com
---
Dans la même rubrique