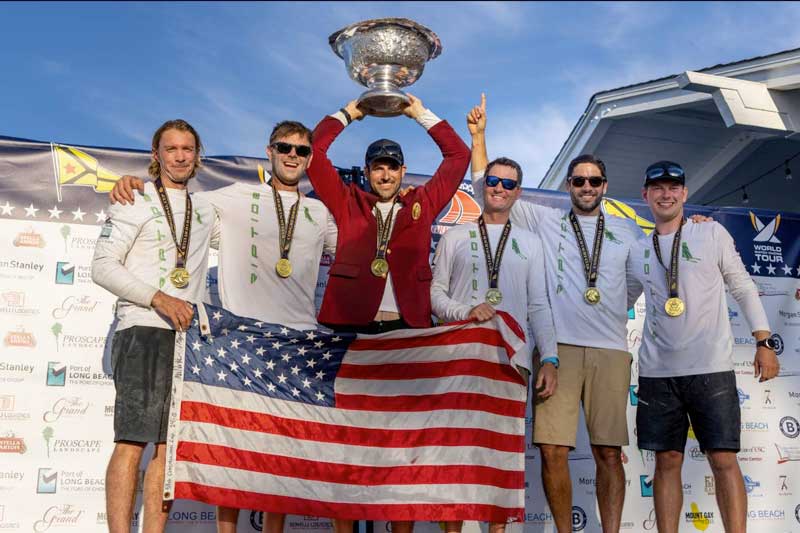 One design racing
World Match Racing Tour 2023 : Chris Poole won the Congressional Cup
samedi 22 avril 2023 – Information World Match Racing Tour
Chris Poole (USA) and his Riptide Racing have swept the Long Beach Yacht Club Congressional Cup, sailing undefeated in five days of thrilling competition. Jeppe Borch/ Borch Racing (DEN) finished second, Nick Egnot-Johnson/Knots Racing (NZL third).
The Congressional Cup – a Grade One match race and World Match Racing Tour World Match Racing Tour #WMRT event, hosted annually by Long Beach Yacht Club since 1965 – wrapped up today in the waters off the Belmont Veterans Memorial Pier. Five days of picture-postcard weather ; over one hundred rousing, exacting matches ; 10 of the world's top ranked match racing skippers ; one victor. The score : 24-0.
For decades the most gifted sailors from around the globe have convened to compete in this prestigious one-design match race regatta. And no-one can recall a time in history that any skipper has won every single match. Until now.
"I'm still in disbelief that we sailed the perfect regatta : I don't think it gets any better than that," said Poole, who claimed victory in his fifth attempt at the Congressional Cup trophy. "To be a part of the winner's circle of this event, at this club, is an incredible honor. It's the only Grade One in the U.S. and one of the most historic match races in the world."
Sailing with Poole, under the Seawanhaka Corinthian Yacht Club burgee, were Matt Cornwell, Luke Payne, Malcolm Parker, Bernardo Freitas, and tactician Joachim Aschenbrenner.
World Sailing ranks Poole as the number one match racing skipper in the world. But a Congressional Cup title has evaded him in a decade of trying. Poole first arrived at LBYC in 2013 where he finished seventh in the Ficker Cup. He was remembered by some as an over-eager, even abrasive, 24-year- old. "When he first came to LBYC he would yell and scream at everybody," chuckled Bob Piercy, Chairman of the 2023 Congressional Cup. "I've watched Chris mature over the years to where he is now : so polite, cool and collected. It's been a treat to watch that evolve."
"And this whole season, almost everywhere he went, he seemed to be coming out on top," Piercy added. "As the 2022 winner of the Grand Slam series his was my first invitation to the 2023 Congressional Cup. I got the letter out that evening : my only regret was that I didn't get to hand it to him in person. And now this result : it's amazing !"
In fact Long Beach Yacht Club and Congressional Cup take some pride in Poole's metamorphosis. This event is more family and fraternity, than callous rivalry.
"I've definitely enjoyed this journey, from my first Ficker Cup 10 years ago," Poole said. "And 2019 was a pivotal year for me, a big shift and a big evolution, and that has kept progressing." Finishing third in 2022, he vowed to return to 'finish what they started last year,' adding, "I would love to have a Crimson Blazer," – an icon similar to the green jacket at The Masters.
Donning that sport coat at the prizegiving tonight, to a standing ovation, Poole choked up. "To sail a perfect regatta, and at this event, is truly a moment that will stay with me for the rest of my life. It's a humbling experience."
At this high level of competition, it's nearly unheard of to have one team dominate the entire event. "This was just a phenomenal effort by Chris Poole and Riptide Racing," said James Pleasance, Executive Director of the World Match Racing Tour World Match Racing Tour #WMRT . "He's been working on this tour a number of years and done a load of events, getting better and better. I'm so pleased for him to get a win of a tour event, in his home country, and one as prestigious as the Congressional Cup. And to go undefeated the whole way through is a testament to his work, his crew's work, and everything he's put into this : the effort and time and travel - an amazing achievement."
Visit https://www.matchracingresults.com/2022/congressional-cup/ for full results
---
For more information on the World Match Racing Tour, visit www.wmrt.com
---
Dans la même rubrique