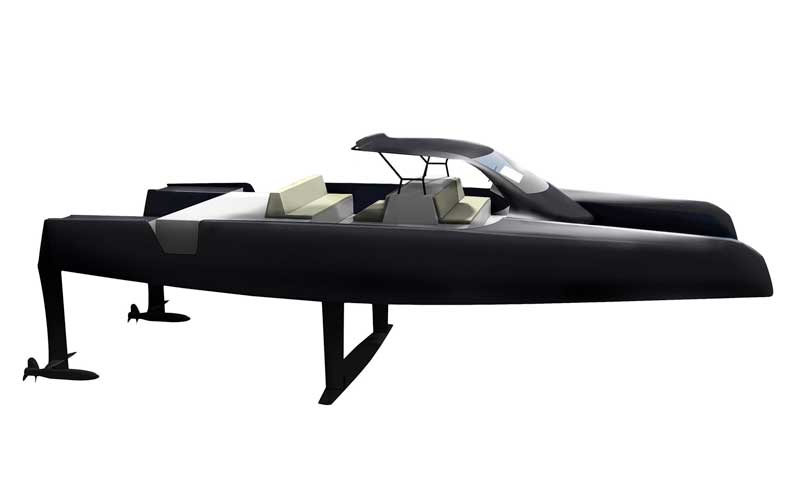 Electrically powered catamaran
Francois Gabart's MerConcept to manage electric foiling tender project
mercredi 20 janvier 2021 – Redaction SSS [Source RP]
2021 is beginning with a highly symbolic project becoming reality for MerConcept. François Gabart's business has just signed a contract to build its first pleasure craft. This is the first step in the diversification process they have opted for, with the aim of transferring technology from ocean racing to the maritime sector.
Founded in 2006 to enable François Gabart to manage his career as a professional skipper, MerConcept has evolved a lot to become a business that is capable of running several ocean racing projects at the same time. (Charlie Dalin's APIVIA IMOCA Imoca #IMOCA , the MACIF skippers' Figaro boats and the IMOCA Imoca #IMOCA belonging to the international 11TH Hour Racing Team).
At the same time, MerConcept started to diversify a few years ago to be able to transfer technology to the maritime sector. Convinced that it is important to optimise the use of wind and / or flying on all boats, and that the innovations and know-how acquired in the quest for race performance should be used in the pleasure boat and nautical sector in general, François Gabart and his team have done a lot of work over the last few months. Today, they are proud to announce the launch of an electrically powered catamaran with foils for an enthusiastic owner.
MerConcept's know-how used to develop an electrically powered catamaran with foils Propelled by two electric motors and equipped with a main foil Foil #foil and two smaller foils, the 12m long, 5m wide flying catamaran developed in collaboration with MerConcept will be unveiled in a few months from now. With a range of 90 nautical miles at a cruising speed of 22 knots with a crew of eight, this yacht is fitted with two carbon floats with a lot of inspiration coming from the M101 trimaran that is currently being assembled in the MerConcept shed in Concarneau. Bio-sourced materials will also be used on part of the boat.
A boat to be launched in late 2021
With a basic concept developed by the SDK design team in the United States, its design has been worked on by the VPLP team in partnership with the MerConcept design office and other specialist firms (electronics, engines, energy...) A real development platform, this catamaran will benefit from innovations from ocean racing, and in particular the technologies linked to flying and the control of flight. Once the main structure is completed in August, it will be sent to the MerConcept shed, where the team and various partner firms will work on the installation of all the different systems and appendages with her launch scheduled for late 2021.
François Gabart : "I am very pleased that this project is taking shape. This is a highly symbolic moment confirming our desire to carry out technology transfers from ocean racing to the whole of the nautical sector. Our racing boats have been flying for several years and I am convinced that one day, every boat will fly, as this reduces drag and energy consumption. MerConcept has a role to play to ensure that maritime transport enables us all to continue to move around the planet in a sustainable and efficient manner."
---
Press info www.merconcept.com
---
Dans la même rubrique