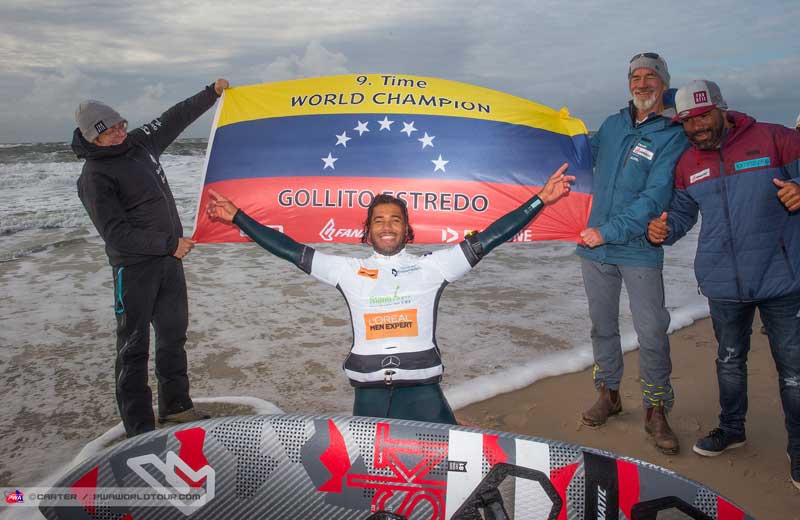 #PWAworldTour #Windsurf
PWA World Tour : Fernandez wins 3rd World Crown while Gollito Completes Stunning Comeback to Capture World Title No.9
jeudi 4 octobre 2018 – Information PWA
Toutes les versions de cet article : [English] [français]
During the night, winds of up to 60 knots whipped the North Sea into a cauldron to leave the wave fleet facing Storm chase-esque conditions at first light this morning. Soon after the initial attempt to resume the Women's Wave Double Elimination the decision was made to postpone the Women's contest due to safety concerns.
That meant that the Men's Wave fleet took centre stage, and with the 2018 Men's PWA Wave World Championship at stake, there was plenty to fight for, but you couldn't have scripted the drama and twists and turns that followed. Meanwhile, the Men's Wave World Title wasn't the only World Title decided on Day 6 as the contortionists of the windsurfing world also fought it out to the bitter end in the Freestyle.
Wave
Men's
An Emotional Rollercoaster
Victor Fernandez (Fanatic / Duotone / Shamal Sunglasses) had to endure an emotional rollercoaster today as he chased a 3rd Wave World Title. Things started brightly for Fernandez as the Spaniard sailed tactically astute heats to successfully defeat - Leon Jamaer (JP / NeilPryde), Antony Ruenes (Tabou / GA Sails), Jaeger Stone (Starboard / Severne / SWOX / Shamal Sunglasses) and Alex Mussolini (RRD / RRD Sails) - as the 34-year-old progressed into the top 3, while moving to within one victory of guaranteeing himself the world title.
Meanwhile, Ricardo Campello (Brunotti Boards / Point-7) could do nothing but sit and watch as Fernandez threatened to derail Campello's own hopes of capturing a first wave world title as he stormed back through the double.
Cue Heat 34 and the Start of the Drama
Having won 5 consecutive heats in the Double Elimination, now there was only one man standing between Fernandez and a 3rd world title. The man in question ? A certain Thomas Traversa (Tabou / GA Sails), who eliminated Fernandez in the quarterfinals of the Single Elimination and put Fernandez's title hopes in jeopardy in the first place.
The heat itself wasn't so dramatic, but with almost nothing between them, this is where the confusion set in as incorrect information quickly filtered to Fernandez, who thought he had just won his third world title. However, at this point, the result hadn't been fully verified or officially confirmed, which led to Fernandez having to be delivered the horrific news that Traversa had in actual fact won the heat by just 0.07 of a point and that he wasn't world champion at all.
The Villain and the Hero
Having just played the villain by putting a spanner in the works of Fernandez's world title aspirations, Fernandez was placed in a strange position, not only having to deal with the heartbreak of not being world champion - yet at least - but also now having to root for Traversa, who had just eliminated him, as all his hopes now rested in TT's hands.
Agonising Wait
However, in order for that to happen, Traversa would have to defeat Campello not once, but twice, which is no easy feat on any given day - but even more so with Campello himself gunning for the title. That left Fernandez with an agonising wait, which must have felt like a lifetime.
Fortunately for Fernandez, and not so fortunately for Campello, Traversa produced the goods at the critical times to win both the Final and the Super Final, and with it, Fernandez's emotional rollercoaster was complete as he was now officially the 2018 Men's PWA Wave World Champion.
The win was also fitting for Traversa, who up until now had endured a tough competition season, but over the last 6 days TT has proven, once again, why he is one of the best wave sailors in the world. Traversa may have been low on confidence coming into the event, but at least walks away from 2018 with his first event victory since his title winning year in 2014 - while perhaps reminding every one of his ability, which has never really been under question.
Ricardo Campello, will no doubt be disappointed not to have captured his first wave world title, but the 33-year-old should be able to reflect on this season in a very positive manner after still finishing as the vice-world champion, which is his best overall result since 2011 - when he also finished 2nd overall.
Elsewhere, Antony Ruenes (Tabou / GA Sails), continued his giant killing ways as he claimed the scalp of 3-time world champion - Philip Koster (Starboard / Severne / Maui Ultra Fins) in Heat 30b to eliminate Koster from this year's title race, while Ruenes walks away from Sylt with an excellent 6th place.
Freestyle
With Jacopo Testa (RRD / RRD Sails/ AL360) eliminating Yentel Caers (JP / Point-7) in Heat 46a that meant that Adrien Bosson (Fanatic / Duotone / Maui Ultra Fins), who won the Single Elimination yesterday, and Gollito Estredo (Fanatic / Duotone) would have a straight battle for the 2018 Men's PWA Freestyle World Championship.
Gollito was waiting in Heat 50 where he would eventually face - Amado Vrieswijk (JP / Severne) - who had been on somewhat of a rampage in the Double Elimination. The Bonairean, who performed below par in yesterday's quarterfinal, returned with a bang as he fought his way back into 3rd place after winning 5 heats on the bounce. Firstly defeating Nic Hibdige (Tabou / GA Sails), who earns his first top 10 result, Mattia Fabrizi (Patrik / Challenger Sails), Jacopo Testa, Sam Esteve (JP / NeilPryde) and Steven Van Broeckhoven (JP / Gun Sails), but after such an intense period of sailing he could not quite muster the performance to defeat Gollito.
Title Showdown
Having finished 2nd in the Single Elimination, Gollito would need to beat Bosson twice to be crowned Freestyle World Champion and given the way Bosson performed yesterday that was not going to be easy. However, in the Final looked underpowered on 4.4m and while he still sailed exceptionally well again he suffered a narrow 116 points to 117.3 points defeat as the title race was forced into a Super Final.
At this point, a victory for Bosson would force a sail off for the world title, while a victory for Gollito would secure a 9th world crown.
For the sail off Bosson changed up to 4.8m which gave him more power and for a long time he was going blow-for-blow with Gollito, but the 8-time Freestyle World Champion has an uncanny knack of raising his game when it matters most and that's exactly what the Venezuelan did again as he posted the highest scoring heat of the day - 130 points - to complete a superb comeback and win an incredible 9th world title, while only further enhancing his reputation as not only the King of Freestyle, but also the competition machine.
Meanwhile, Bosson walks away from this season as the vice-world champion, which is the Frenchman's best result of his career so far, and he should be hugely proud of what he has achieved this year.
Result Women's 2018 Wave Mercedes-Benz PWA Super Grand Slam - Single Elimination
1st Sarah-Quita Offringa (ARU - Starboard / NeilPryde / Maui Ultra Fins)
2nd Iballa Moreno (ESP - Starboard / Severne / Maui Ultra Fins)
3rd Lina Erpenstein (GER - Severne / Severne Sails)
4th Steffi Wahl (GER - Sailloft Hamburg)
Result Men's Wave 2018 Mercedes-Benz PWA Super Grand Slam
1st Thomas Traversa (FRA - Tabou / GA Sails)
2nd Ricardo Campello (BRA/VEN - Brunotti Boards / Point-7)
3rd Victor Fernandez (ESP - Fanatic / Duotone / Shamal Sunglasses)
4th Alex Mussolini (ESP - RRD / RRD Sails)
5th Jaeger Stone (AUS - Starboard / Severne / SWOX / Shamal Sunglasses)
6th Antony Ruenes (FRA - Tabou / GA Sails)
7th Leon Jamaer (GER - JP / NeilPryde)
7th Philip Köster (GER - Starboard / Severne / Maui Ultra Fins)
9th Josep Pons (ESP - Simmer / Simmer Sails)
9th Adam Lewis (ENG - Fanatic / Duotone / SWOX)
9th Klaas Voget (GER - Fanatic / Duotone)
9th Marcilio Browne (BRA - Goya Windsurfing)
Result Men's Freestyle Mercedes-Benz PWA Super Grand Slam
1st Jose 'Gollito' Estredo (VEN - Fanatic / Duotone)
2nd Adrien Bosson (FRA - Fanatic / Duotone / Maui Ultra Fins)
3rd Amado Vrieswijk (NB - JP / Severne)
4th Steven Van Broeckhoven (BEL - JP / GunSails / Shamal Sunglasses)
5th Sam Esteve (FRA - JP / NeilPryde)
6th Jacopo Testa (ITA - RRD / RRD Sails / AL360)
7th Mattia Fabrizi (ITA - Patrik / Challenger Sails)
7th Yentel Caers (BEL - JP / Point-7)
9th Balz Müller (SUI - MB-Boards / Severne)
9th Dieter van der Eyken (BEL - Severne / Severne Sails)
9th Loick Spicher (SUI - RRD / RRD Sails)
9th Nic Hibdige (ENG - Tabou / GA Sails)
Current Ranking 2018 Mercedes-Benz Sylt PWA Super Grand Slam - Men's Slalom
*After Two Eliminations
1st Pierre Mortefon (FRA - Fanatic / Duotone / Chopper Fins)
2nd Antoine Albeau (FRA - RRD / NeilPryde)
3rd Antoine Questel (FRA - Starboard / S2Maui)
4th Ross Williams (GBR - Tabou / GA Sails / Shamal Sunglasses)
4th Cyril Moussilmani (FRA - RRD / Severne)
6th Matteo Iachino (ITA - Starboard / Severne / Shamal Sunglasses)
7th Julien Quentel (SXM - Patrik / Avanti)
8th Basile Jacquin (FRA - RRD / Point-7)
9th Nicolas Warembourg (FRA - JP / NeilPryde)
10th Andrea Ferin (ITA - RRD / Challenger Sails / AL360)
Current Ranking 2018 Mercedes-Benz Sylt PWA Super Grand Slam - Men's

Foil

Foil

#foil
*After Two Eliminations
1st Matteo Iachino (ITA - Starboard / Severne / Shamal Sunglasses)
2nd Antoine Albeau (FRA - RRD / NeilPryde)
3rd Nicolas Goyard (FRA - Tabou / GA Sails)
4th Alexandre Cousin (FRA - Patrik / GA Sails / Chopper Fins)
5th Julien Bontemps (FRA - JP / NeilPryde)
6th Amado Vrieswijk (NB - JP / Severne)
7th Antoine Questel (FRA- Starboard / S2Maui)
8th Mateus Isaac (BRA - JP / NeilPryde)
9th Arnon Dagan (ISR - RRD / NeilPryde)
10th Steve Allen (AUS - Patrik / Severne)
---
Dans la même rubrique